In Estes Park, winter sport means people-powered snowsports in the backcountry – like backcountry skiing, splitboarding, cross-country skiing, ice climbing, snowshoeing – activities where you use your own energy rather than a ski lift.
There is nothing like being in the backcountry in the winter. It's quiet, it's calm and it's not difficult to find solitude. Getting around without the aid of a ski lift leaves you feeling invigorated and the sense of accomplishment is unreal.
Of course, there is a learning curve associated with most of them, and for some, necessary avalanche safety education. But don't let any of that stop you.
Check out the different winter snowsports offered in the area and which Estes Park guiding services will teach you how to take part. And because nothing worth learning can be learned in a day, plan to stay in town for a few days and make a vacation out of it.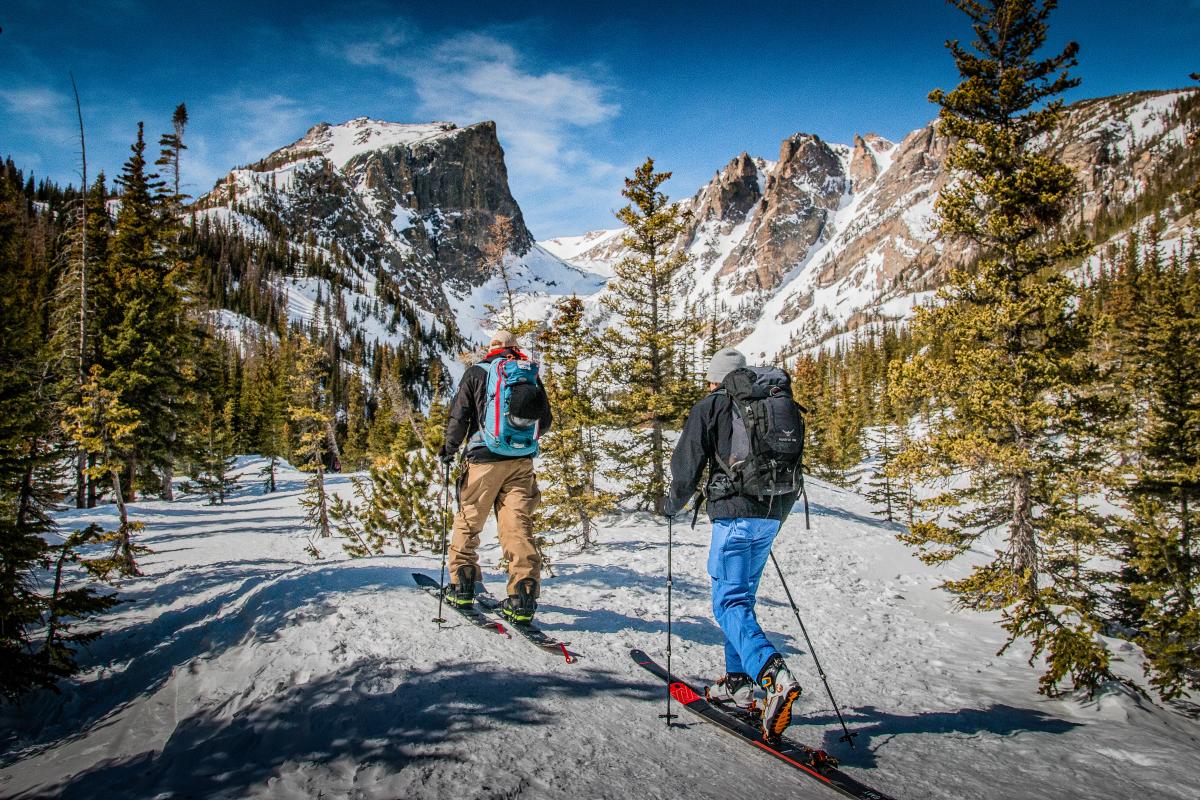 Estes Park: basecamp for these winter snowsports
Snowshoeing Very similar to hiking, snowshoeing is arguably the most approachable of people-powered snowsports although it can still be overwhelming if you don't know where to start.
Cross-country skiing Uses a gliding motion to get you where you want to go. The motion is gentle and easy enough to pick up, but provides a lot of room to grow; good Nordic skiers can go faster than runners with less effort.
Ice climbing Specialized gear gets you up rock faces covered in ice. Try this just because you can; it's amazing.
Backcountry skiing Backcountry skis use skins (fabric attached to the bottom of the skis to prevent backslide) to allow skiers to make their way up runs using a cross country-like gliding motion. At the top, skins are removed for a smooth ride all the way down.
Splitboarding Using a specialized snowboard that splits in half, the halves (with skins – fabric attached to the bottom of the halves that prevents backslide) help you work your way up the run, just like backcountry skis, to reach your preferred height. The skins are then removed and the board is connected to make one piece for a great ride down.
Avalanche Education The backcountry is not managed, groomed or monitored as ski resorts are so when participating in sports that take you off trail (splitboarding, backcountry skiing) it is of utmost importance to be aware of conditions that could cause an avalanche, in order to avoid them.

This is where you should start if planning on going off-trail in the backcountry.
Guiding services in Estes Park
These outfitters will take you out on your first big adventure, or simply show you new locales, if that is all you need.
These guiding services provide most of the equipment you will need for a day in the backcountry. If you need rentals, or tips on where to go, visit the Estes Park Mountain Shop. To pick up something warm you forgot try one of these shops.
What to do when you're not in the backcountry
Grab a drink to go from one of Estes Park's local craft beverage makers to sip on at your accommodations, while you rest your legs. Or, pick up a coffee and get some shopping done. Create your own art gallery tour. Enjoy a delicious meal cooked just for you in the comfort of your accommodations; restaurants are open for takeout.
Where to stay
There is a great variety of places to stay – find the one that's perfect for you.