These Estes Park women made (or are making!) a lasting impact in the community.
Estes Park features a brilliant piece of art, a monument really, that pays tribute to the amazing women, both past and present, of the Estes Park community. The collection of 12 bronze sculptures is one of the first of its kind in the nation and was created by famed artist Jane DeDecker, who is commissioned to create a similar work of art on the Washington D.C. National Mall. Read the fascinating stories that earned each woman a spot in Estes Park's monument, and be sure to check it out next time you're in town.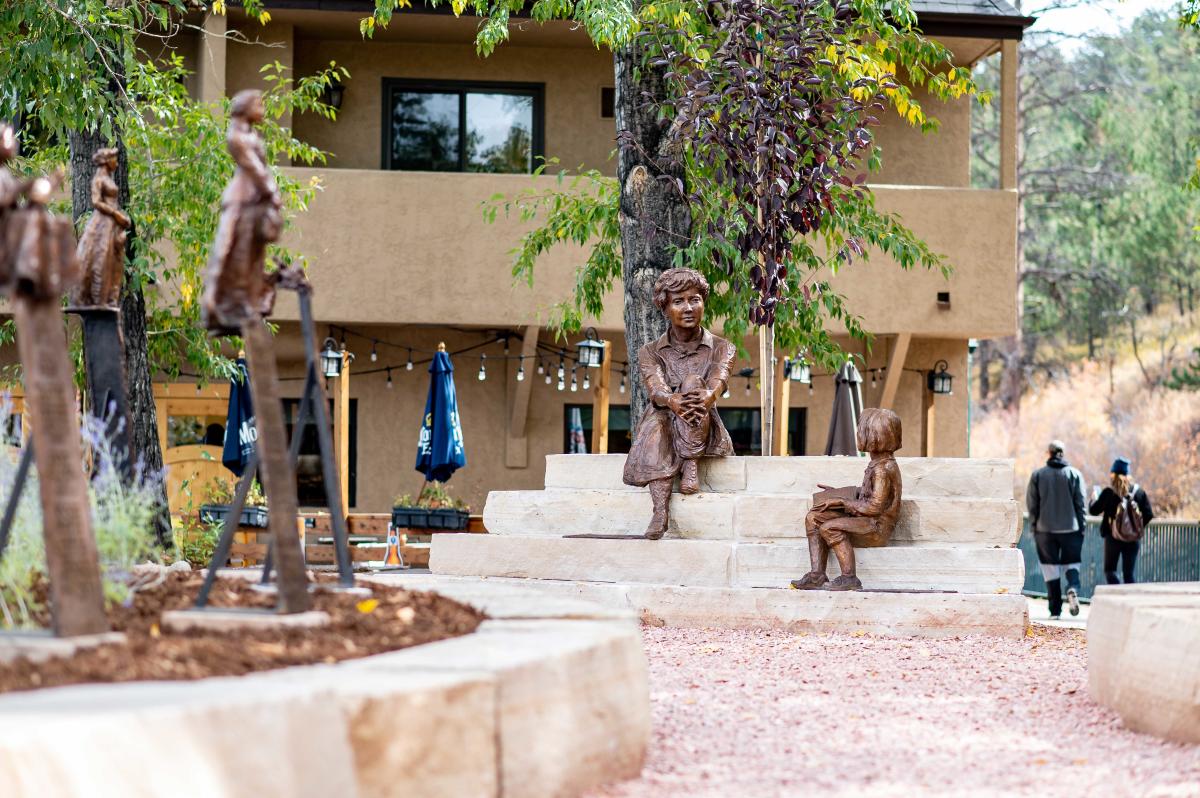 Margaret Fuller Boos
Geologist, Ranger-Naturalist, Professor
1892-1978
Margaret was the first female ranger-naturalist at Rocky Mountain National Park (1928-29). She held a Ph.D in Geology and created a geology guide for RMNP. She helped establish the Geology Department at the University of Denver and created an endowment that continues to provide tuition scholarship funds for women graduate students.
Josephine (Josie) Hupp
Pioneer, Businesswoman, Hotel Owner, Estes Park Postmistress
1857-1932
Of all of Estes Park's pioneer businesswomen, none was more successful than Josie Hupp, who during her lifetime owned and managed four of Estes Park's downtown hotels, including the Hupp and the Josephine, a popular cafe, and still found time to serve as Estes Park's postmistress from 1907-1914.
Alberta Sprague
Resort and Hotel Owner, Businesswoman, Civic Leader
1867-1949
Alberta and Abner Sprague were some of the first settlers of Estes Park. They built and operated several rental cabins and a log hotel for overnight accommodations in Moraine Park. Alberta, active in civic life, served as president of the Estes Park Woman's Club (1926-27). Alberta Falls in Rocky Mountain National Park was named for her by Abner as he mapped the area in the 1890s.
Flora Stanley
Educator, Civic Leader, Adventurer
1847-1939
Flora, an educator and part-time Estes Park resident, was committed to the betterment of low-income women and universal suffrage. She was also a pioneer for civic involvement in the town, which included running a fortune telling booth to raise money for the Woman's Club. The club promoted trail building, the fish hatchery, and the town's first library and she helped the club become a member of the Federated Woman's Club.
Jessica Chapin Macdonald
Educator, Book Seller, Entrepreneur
1874-1957
Jessica, a former kindergarten teacher, met J. Edward Macdonald while on vacation in Estes Park. In 1907, they returned to Estes and opened a general store. The store closed in 1928 and they opened a book and stationery shop in the front of their home on Elkhorn Avenue. Widowed in 1932, Jessica continued her many civic responsibilities and ownership of her shop. Macdonald Book Shop still operates in the same location.
Olga Ortega
Business Owner, Civic Leader, Entrepreneur
1973-present
Olga came to Estes Park in 1992 and raised her family in the town. Olga and her husband Enrique own the family-run Mountain Home Café. She is a founding member of "Estes Park Gives Back" and helped implement the annual Cinco de Mayo celebrations in Estes. She and her family support local families by providing meals, books, and other help and she embraces the community with a commitment to service.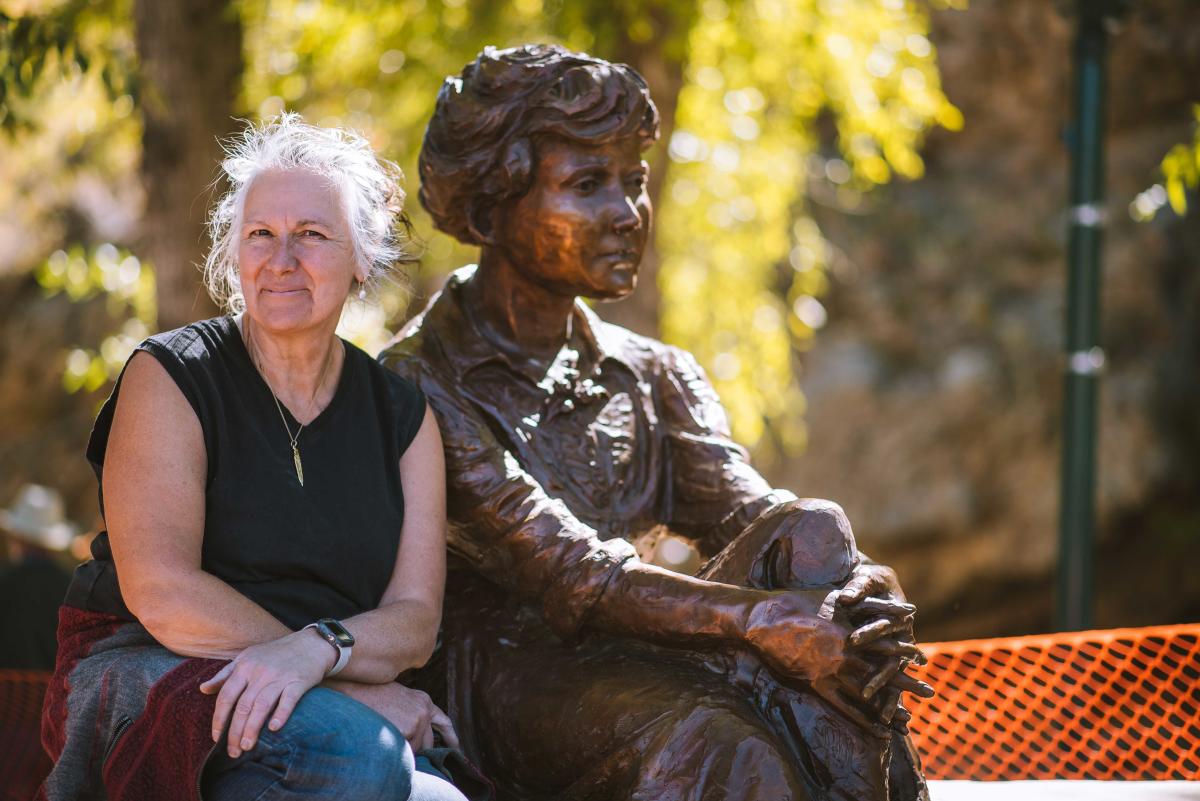 Artist Jane DeDecker posing with part of her work during the installation of the monument.
Jean Weaver
Adventurer, Mountain Climber, Environmentalist
1928-2017
Jean climbed Longs Peak twelve times along with all 13,000+ feet peaks in Rocky Mountain National Park. She advocated for local women to be active in the outdoors through skiing and hiking. In 1985, on behalf of her environmental work, she won multiple awards for establishing a successful and novel recycling program in Colorado.
Wendy Koenig
Olympian, Business Owner, Civic Leader, Mayor
1955-present
Wendy Koenig grew up in Estes Park where she developed her love for the mountains, running, and the community. She is a two-time U.S. Olympian, having run the 800 meters in the 1972 and 1976 games. She is an audiologist and ran her own business, Community Hearing Center, in town. She raised her family in town, was a two-term Town Trustee and was elected Mayor of Estes Park in 2020.
Isabella Bird
Traveler, Explorer, Author
1831-1904
An accomplished writer and explorer, Isabella Bird wrote many books describing her global adventures. Her book, A Lady's Life in the Rocky Mountains, published in 1879, brought many visitors to Estes Park and the majestic Rockies. "I have found a dream of beauty at which one might look all one's life and sigh." She climbed Longs Peak once with the assistance of Rocky Mountain Jim before returning home to England. She was the first woman elected to Fellow of the Royal Geographical Society.
Neinoo Biiti'owu'
Naturalist, Traveler, Environmentalist
"The Earth is my Mother"
Arapaho, Cheyenne, and Ute have utilized and protected the fertile Estes Valley for many generations. Using the gifts of nature, wisdom, and an environmental ethic, women sustained their family units with food, shelter, and love. Arapaho Quote: "Take only what you need and leave the land as you found it."
Enda Mills
Educator, Naturalist, Civic and Social Activist
1919-2009
Enda Mills was born April 27, 1919 at Longs Peak Inn at the base of Longs Peak to Enos and Esther Mills. Although her father died when she was three years old, she inherited his love and passion for the natural world around her. She graduated Estes Park School in 1937, in a class of 13 students and became an advocate for nature and the environment and was politically, socially, environmentally and spiritually active throughout her life. She loved horses, flying, music, laughter, nature, the desert and her home in Estes Park, Colorado.
Eleanor E. Hondius
Business owner, Civic Leader, Conservationist, Environmentalist
1880-1968
Eleanor ran the successful Elkhorn Lodge for 18 years and welcomed guests exploring Estes Park and the Rocky Mountains. Eleanor was also a founding member of the Estes Park Woman's Club, which helped to fund and construct the town's library that was completed in 1922, and a charter member of Estes Park's first P.E.O. Through her love of hiking, Eleanor supported and inspired the conservation efforts in the Rocky Mountain region and was a keen fundraiser for hiking paths, trails, and roads in the area. A trail she laid out is named in her honor. The "Eleanor Hondius Deer Mountain Trail" leads from the hill behind Elkhorn Lodge to Deer Mountain inside the Rocky Mountain National Park. Eleanor was a dedicated supporter of the town's efforts to improve and protect a strong mountain community.
Visit the monument
Make sure to visit the monument at the intersection of Riverside Drive and E. Elkhorn Avenue. You'll find it along the river, near the playground. Next to Casa Grande Mexican Restaurant.