By our friends at the Estes Park Mountain Shop
Where there's a will, there's a way – while you might not think it's possible right now, join the local diehards and get your first ascents of the year this spring. As winter melts away, enjoy the change of season (before the summer crowds) by tying in at the following local spring climbing favorites:
TAME
Performance Park: Great for the beginner, Performance Park offers short (30-60 foot) routes with easy grades, and you don't even need to leave town to get there! Located just off of West Elkhorn, the cliff offers educational opportunities, and is a great place to get those first outdoor sports leads. Routes range from 5.3 to 5.11 in difficulty and the area also offers plenty of bouldering problems.

MILD TO SPICY
Jurassic Park: Take a climb on the wild side with a trip to Jurassic Park – near Lily Lake just south of Estes Park. Comprised mostly of sport climbing, here you'll find short to moderate routes ranging in difficulty from 5.6 to 5.12. A great place to soak in the sunshine, take in some of the best views of the Diamond on Longs Peak and bag some iconic Estes routes.

AS IT THAWS
The Crags on Twin Sisters: Located on the West face of Twin Sisters, enjoy not only great alpine routes on rough granite and gneiss, but also a beautiful setting overlooking the Estes Valley. Routes are accessible on multiple crags and vary from 30 feet to 4 pitches with difficulty ratings of 5.9-5.13c – this area is a paradise for the more experienced climber.
Safety, especially while climbing in the spring is paramount. Be alert for falling rocks and always protect your noggin with a helmet. Weather can change fast – don't get caught off guard and pack for a variety of conditions. When in doubt, go with a guide – let the experts help you curate an enjoyable climbing experience. Kent Mountain Adventure Center, Estes Park Rock Climbing and Colorado Mountain School have years of knowledge, allowing you to sit back and "enjoy the ride."
Local insight: Check out the new Via Ferrata experience from Kent Mountain Adventure Center – sure to be a family favorite!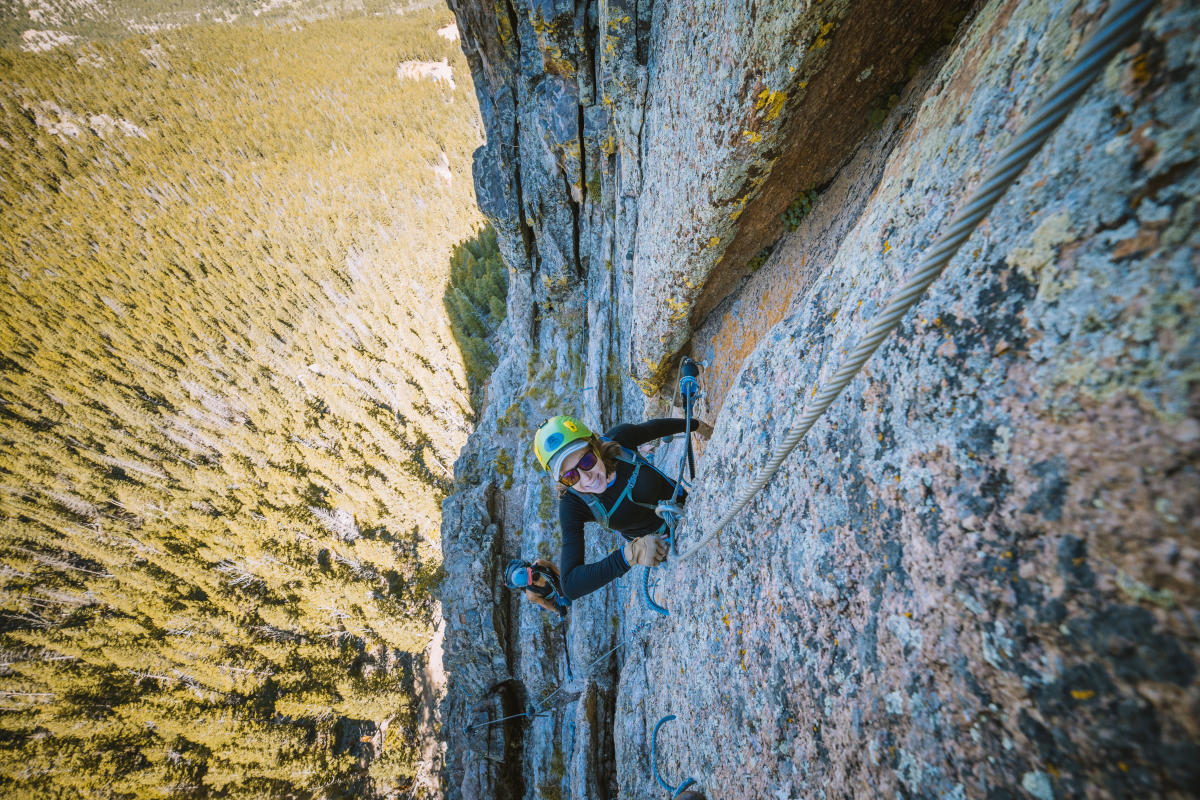 Not sure you're ready for the outdoors? Check out the indoor climbing gym at Estes Park Mountain Shop. The Estes Park Mountain Shop climbing gym is one of the finest small gyms in the country and includes over 4,500 square feet of climbing terrain including state-of-the-art training tools (Moon Board and M6 Treadwall) and 125 linear feet of bouldering. Routes are changed often and are great for the beginner as well as the expert. The Estes Park Mountain Shop also offers the latest climbing gear, climbing rentals (think crash pads, climbing shoes, helmets) and climbing beta from local experts. Shop online or in the store.
After getting your climbing fix, round out the day with a stroll downtown for great shopping and sweet treats, grab a bite of delicious local fare and share your big wall tales over a beverage from one of the local breweries or the local winery. 
Go yonder and climb on!