Imagine walking down the aisle surrounded by towering pines, with the Rocky Mountains as your witness. Whether you're looking for an intimate occasion or a grand affair, Estes Park wedding venues come with breathtaking settings all year round. Here are some of the best wedding venues to jumpstart your planning. 
 
Della Terra
Looking for boutique luxury for your big day? Located just minutes away from the Fall River entrance of Rocky Mountain National Park, Della Terra is a dreamy mountain wedding venue that will leave you and your guests in awe. This venue offers indoor and outdoor ceremony sites and a reception area accommodating up to 200 guests. Bonus: each wedding comes with a complimentary honeymoon suite reservation! More info here.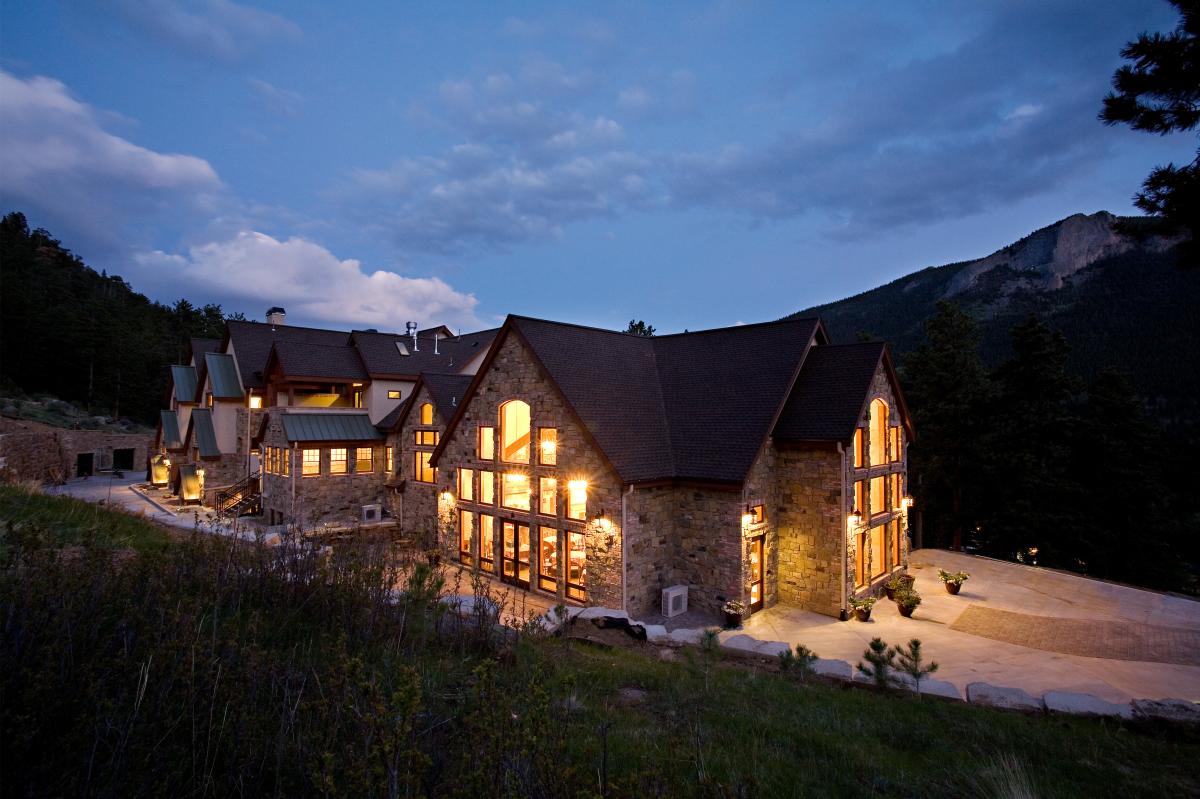 SkyView at Fall River Village
SkyView offers a modern rooftop ceremony with a stunning backdrop of nearby Rocky Mountain National Park. We think the best part about this outdoor venue is that rain is not a factor, thanks to their open-air roof canopy. Enjoy cocktail hour on the beautiful wrap-around deck, never sacrificing the views. Keep in mind the views here really steal the spotlight. More info here.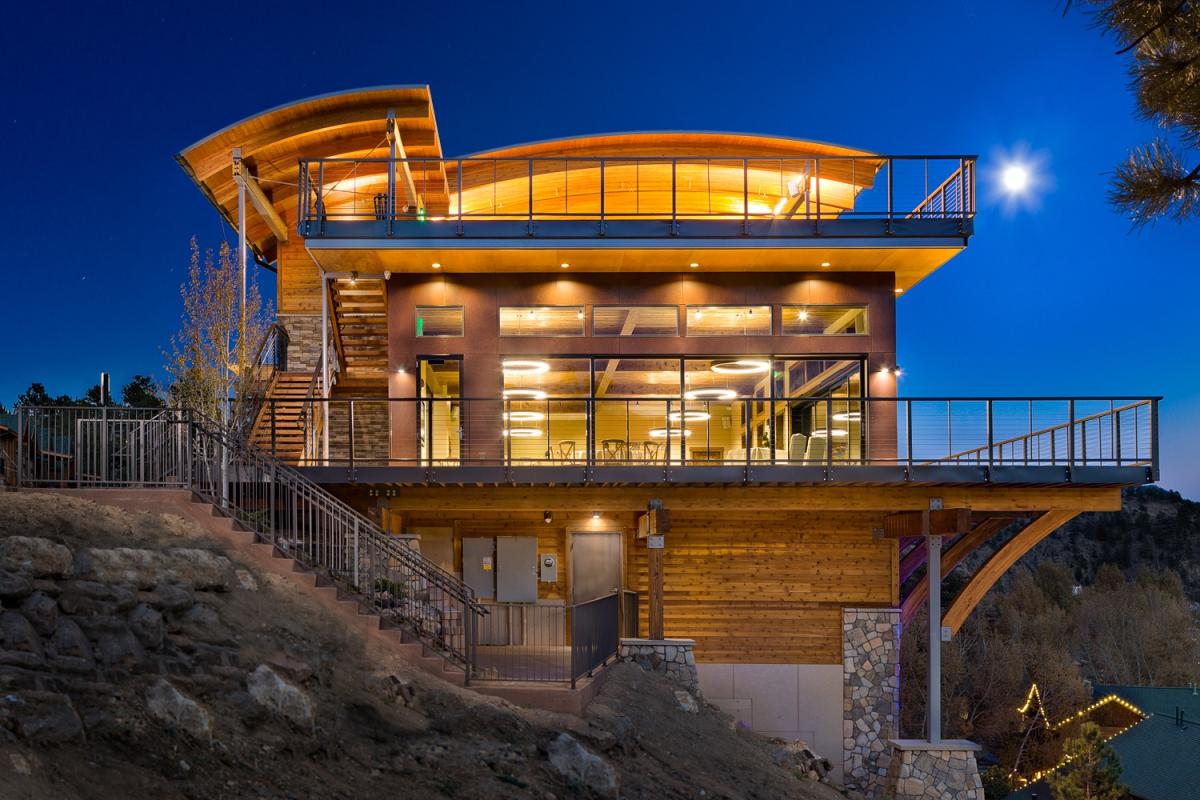 YMCA of the Rockies
This is not your average YMCA. This property screams weekend-long fun for you and your wedding guests. This rustic site offers a variety of outdoor and indoor ceremony and reception sites as well as a range of lodging options from cabins to lodge rooms to even campsites! There is an option for all budgets. The YMCA is so much more than a wedding venue. For guests staying at the YMCA, you will be able to access dog-friendly hiking trails, fishing, miniature golf, rock climbing and more iconic Estes Park activities all weekend long. More info here. Photo credit to Lara Photography.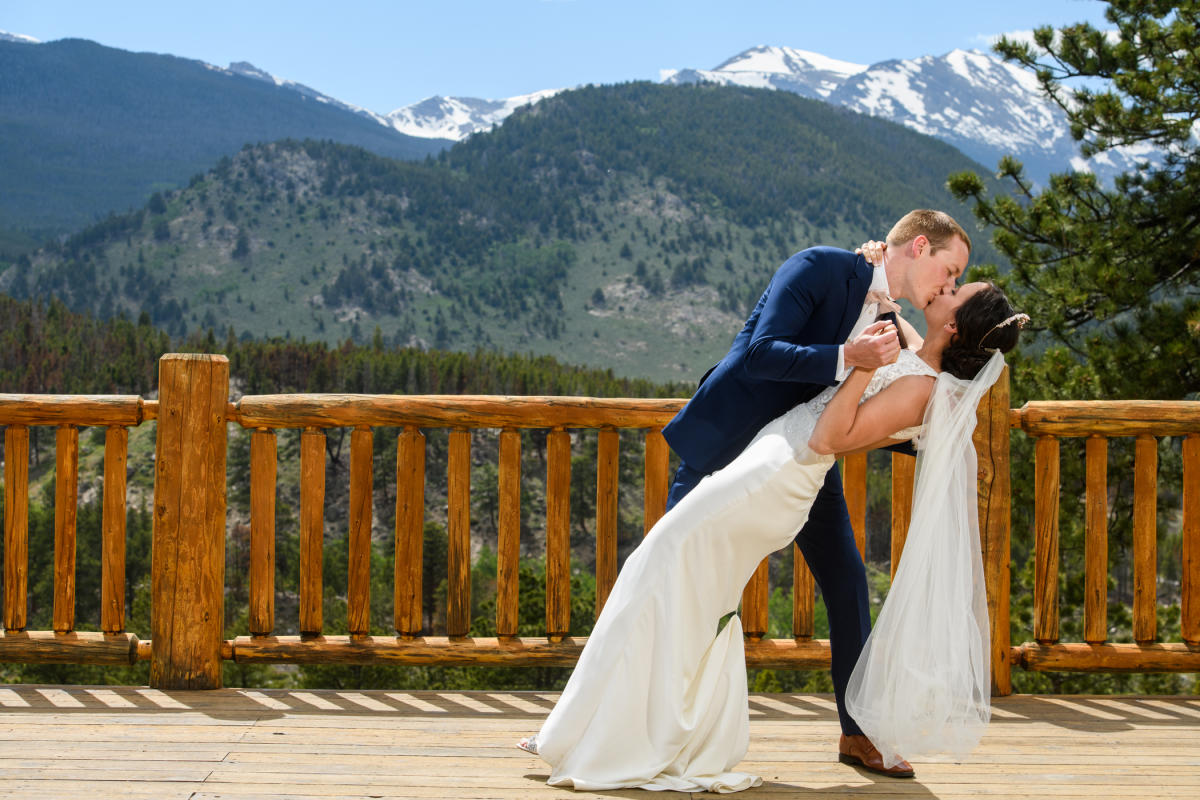 Rocky Mountain National Park
Imagine giving Longs Peak a front-row seat to your vows! Convinced? There are 12 intimate ceremony sites within the national park and each has a different capacity, the most being 30 guests. Sprague Lake and Lily Lake have beautiful wooden docks creating a natural altar for you and your partner. 3M curve (photographed below) is easy to get to and also gives the most privacy out of all the ceremony locations. And since all 12 of these are rugged locations, the biggest rules to follow are those of leave no trace, especially the one about packing out what you pack in (confetti is impossible to pack out). More info here. Photo credit to Larsen Photo Co.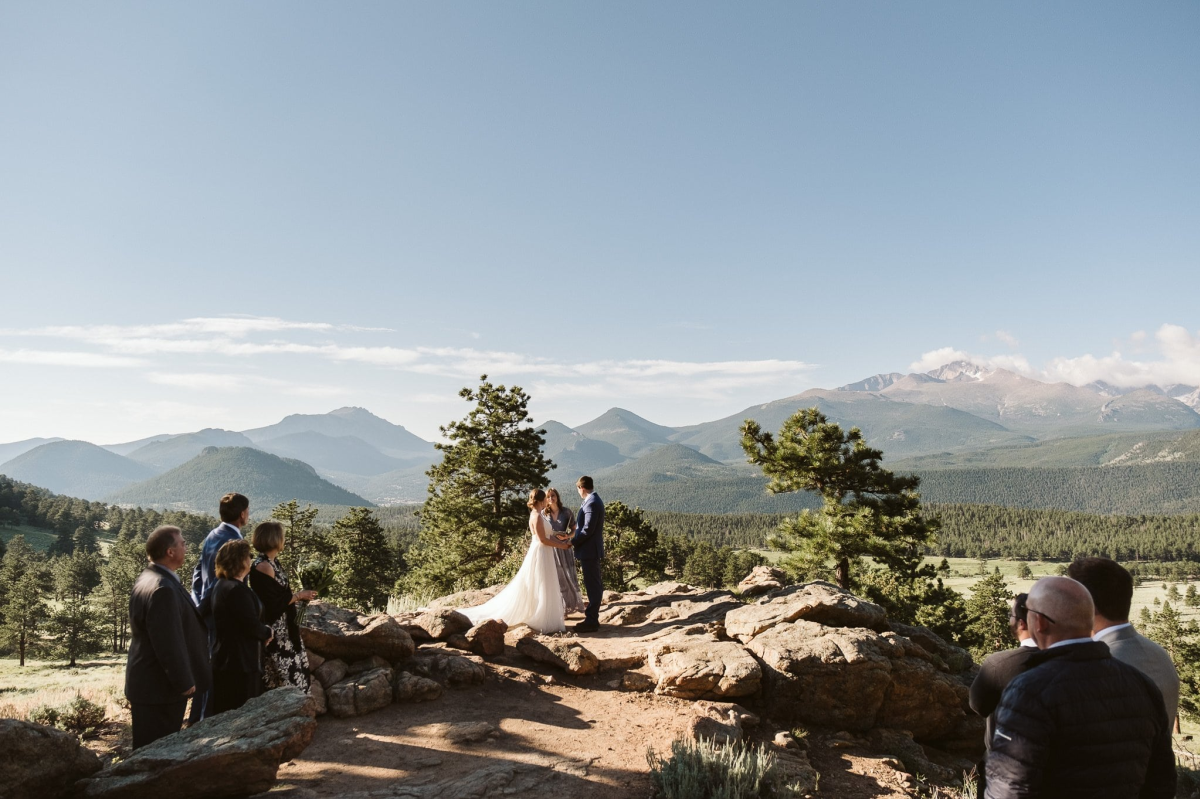 Black Canyon Inn
With romantic log buildings and natural rock formations all around, rustic elegance is how we would best describe weddings at Black Canyon Inn. The outdoor ceremony site is nestled amidst towering pines and overlooks a tranquil pond, creating a serene and intimate setting for your vows. The reception space features a grand fireplace and floor-to-ceiling windows that offer breathtaking views of the mountains. More info here.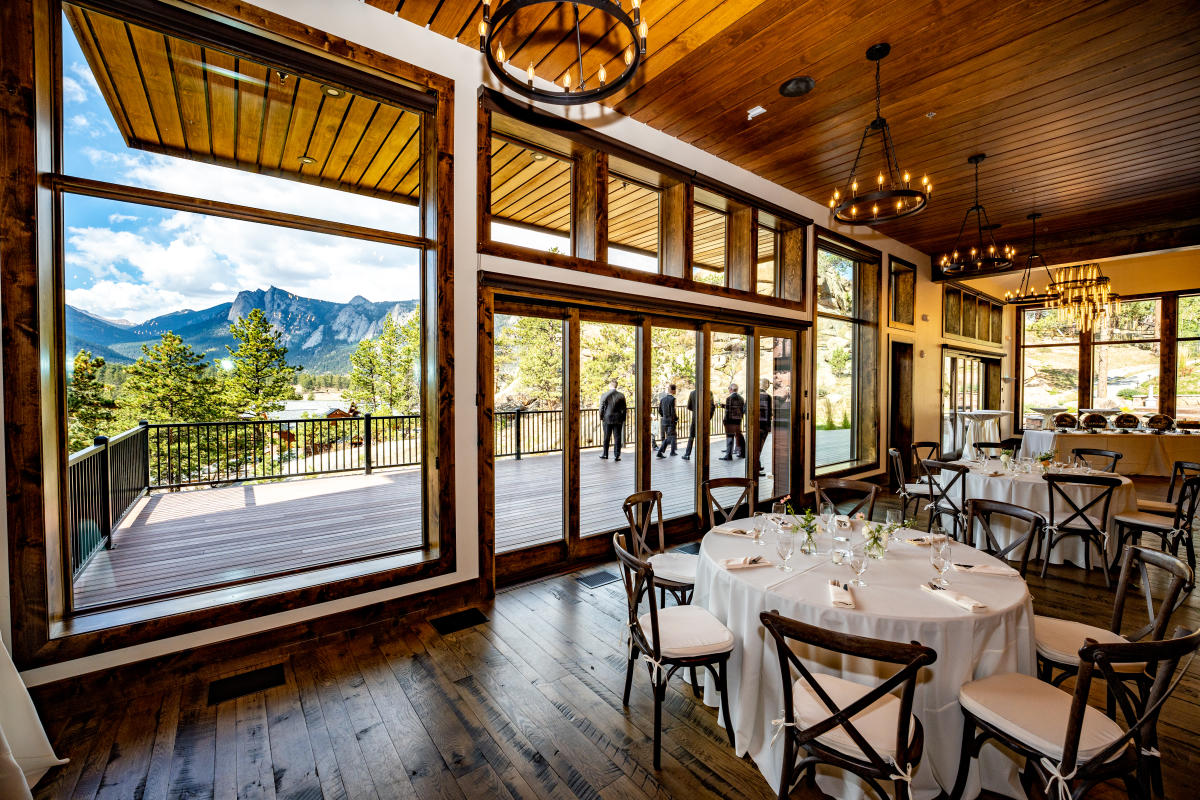 Dao House
Start your big weekend off with a massage, sauna session, oxygen lounge session or pick from all the other rejuvenating wellness opportunities at the Dao House. Dao is the way to "return to simplicity and live your true nature" and we can't think of a place better to walk into the future with your partner than the Dao House. This unique venue offers indoor and outdoor options for your big day. The outdoor ceremony spot is engulfed in aspens, making it perfect for a fall wedding! More info here.
 
Venue on the Rocks
Located at Coffee on the Rocks, this new outdoor venue is nestled against a picturesque pond. They are in the process of building a pavilion, set to be done by the spring of 2023! And we can't wait! This is the quaint, serene wedding of dreams. More info here.
 
Taharaa Mountain Lodge
This venue is the full wedding package, as it's connected to the luxurious Twin Owls Steakhouse. It even comes with a two-night stay in the exclusive honeymoon suite. At Taharaa, you'll get the choice between an outdoor and covered deck ceremony site and a sweeping reception room that seats up to 120 guests. More info here.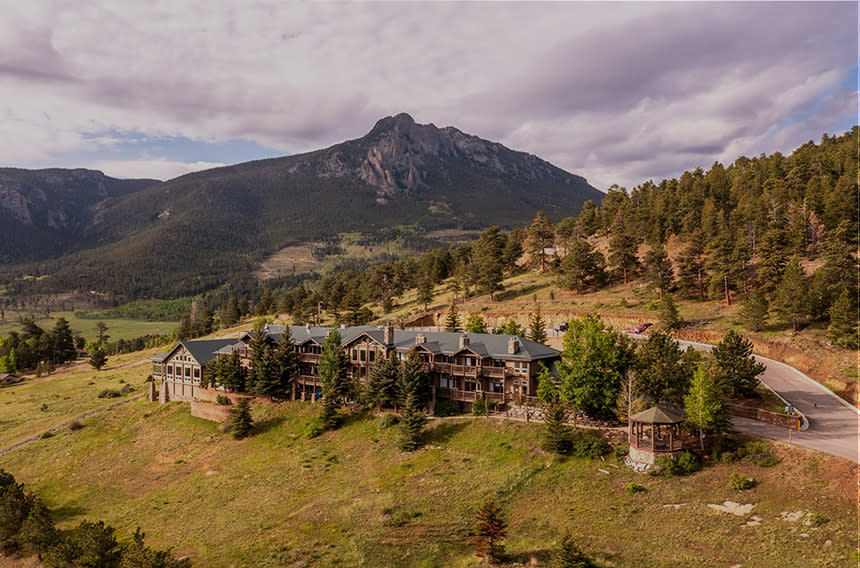 For a full list of venues and other wedding resources, check out VisitEstesPark.com/weddings.