Editor's Note: Jacob Moon is a self-taught freelance photographer, who has always had an insatiable curiosity for the natural world. Jake spent his time as an Athlete in Residence in Estes exploring with his wife and daughter after road tripping in their van and linking up with Chris Brinlee Jr. for some alpine mountaineering.
By Jacob Moon
My love for Estes Park, Colorado began years ago when I first came for a climbing trip in the adjacent peaks of Rocky Mountain National Park. I came for excellent alpine climbing, but I was blown away by just how much the place offers in every direction around town, really anything that involves mountains–like hiking, biking, and rock climbing. That first trip inspired me to return several times again to climb and backpack. Yet despite the time I've spent in this area, the list of things I want to do still feels endless.
When Visit Estes Park contacted me about coming back in May 2019 to participate in their Athlete in Residence program, I was thrilled. Conditions permitting, I knew immediately what I wanted to attempt to climb on this trip: The Blitzen Ridge on Ypsilon Mountain (~13,500 ft above sea level) in Rocky Mountain National Park. The ridge is rated at a 5.4 climbing difficulty, but would be more challenging due to the expected snow in early May. 
I decided to bring my wife and 2-year old daughter on this trip so that I could share this special place with them. Traveling with my family is an important part of my life, and I always try to balance work and my passion for technical alpine climbs with family time. With all the family-friendly activities it offers, Estes Park is the perfect basecamp.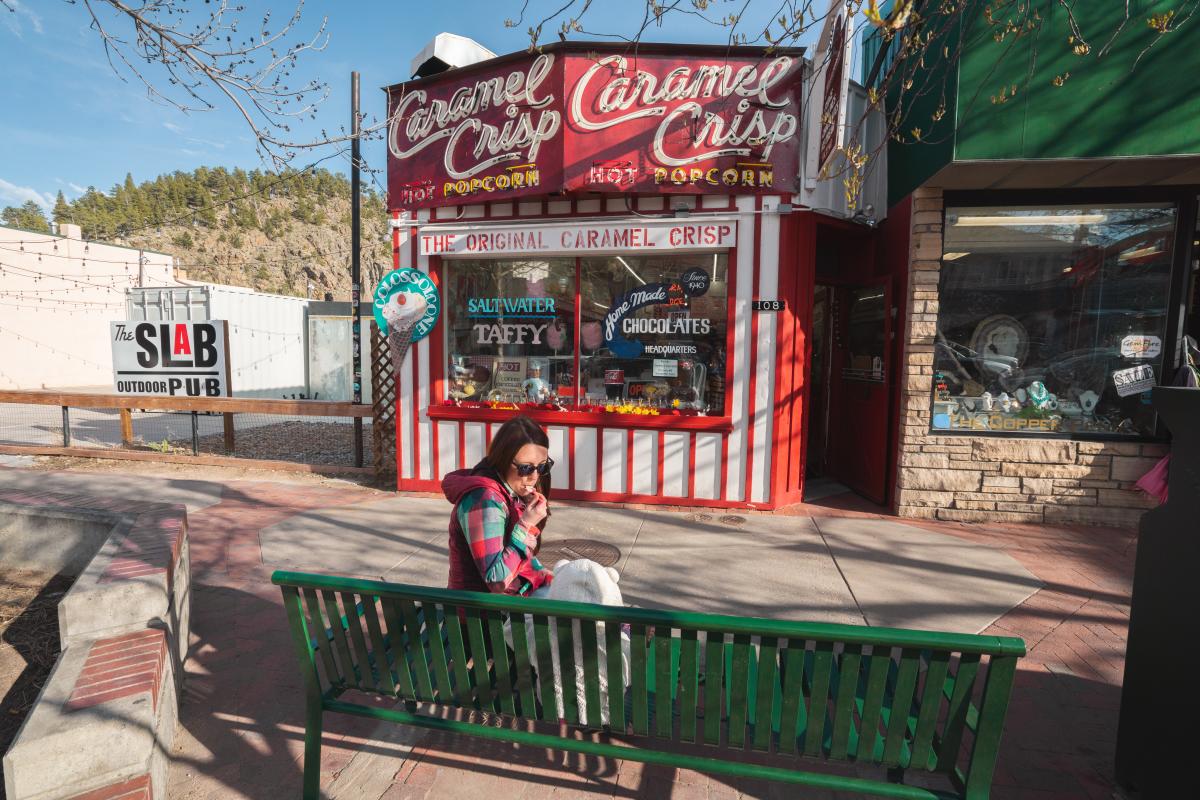 Over five days, my family and I enjoyed walking the town while eating ice cream, we strolled around Lake Estes, watched the elk graze in the parks, and ate at my favorite restaurant, Nepal's. We also hiked to the summit of Lily Mountain to enjoy stunning views. Even with some lingering snow, this well-traveled and maintained trail right near town is great for the family.
The day before the Blitzen climb, my good friend, and go-to climbing partner, Chris Brinlee Jr., came up to Estes Park from nearby Lyons, and together with my family, we hiked up to do some climbing in an area known as Jurassic Park. We climbed a route called the "Edge of Time", a stunning single pitch old school 5.9. The grownups took turns climbing, while my daughter scrambled over small boulders, playing with sticks and rocks as she looked up at us.
After a few days of family activities, it was finally time to do the climb. At 2 am, with my wife and daughter sound asleep, and coffee in hand, Chris and I stepped out of our cabin in Estes Park and got in the car to arrive at the trailhead just 20 minutes later. We shouldered our backpacks and started hiking toward the mountain with the trail illuminated by our headlamps in the cold night air. 
While we hiked, I must have climbed the route 1000 times in my head in between conversations with Chris. This mountain was big and the route technical. Though comfortable with those factors, the biggest variable for us was the amount of snow on the route this time of year, and the effect the sun would have on it. It would be impossible to really know its condition until we got there and tested it. 
A few hours later, the sun rose, pouring its magical morning glow upon the summit of Ypsilon as we at last stepped up to the base of the climb. The Blitzen Ridge is an imposingly steep granite spine that curves 2000 ft up to the summit with the most notable section being the sequential knife blade pyramids - The Four Aces - that guard the upper portion of the ridge. By 8:30, we reached the Aces and began traversing them one by one. 
At an elevation of 12,000', the snowy winter coat that the Aces wore slowed our progress, and as the spring sun climbed higher in the sky, the snow rapidly softened. By noon, we rappelled off the final Ace and looking at what was still above us, we knew we had to make a decision. Wallowing in waist-deep snow, we gazed upward at the long final 1,300 vertical feet that still stood between us and the summit of Mt. Ypsilon. If we continued, we'd at minimum be looking at a long slog up very steep terrain.
So we decided to bail. Despite all reports telling us that getting off the route wasn't possible high on the route, we found a way to exit by making three full-length rappels off rocks that protruded from the ridge. 15 hours after starting, we were back at the car. Pulling into Estes Park just a few minutes later, we were thoroughly exhausted, but safe and charged up on our day in the mountains. I was happy that we got to experience what we did, happy to have this objective waiting for us when we return to do it again, and especially happy to be back safe in Estes Park to hold my family in my arms and know we'll be back again and again. Estes is like home.