Local artist Cecy Turner has made a career in plein air, oil and watercolor painting. A member of numerous art societies, and recipient of many awards, Cecy is recognized for her wonderful Rocky Mountain creations. Read Cecy's profile below, and find out more on her website and blog.
Artist Q & A:
Age: 69
Art form? Oils and watercolors
How long have you lived in Estes Park? We've had a house here for eight wonderful years.
Where is your hometown? Dallas, Texas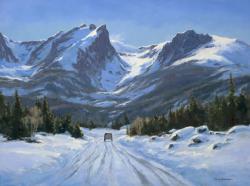 How long have you practicing your art form? So long ago that I should be a master of all now! Around 45 years.
Why did you start practicing your art form? I had always loved drawing since I was little and took lots of art courses in college. However, I didn't major in art because that was the era of abstract art, which didn't interest me, and the teachers then gave no real instruction on how to do anything. I started painting classes at night after I graduated, and mainly wanted to do some paintings to decorate my new apartment. It really took me over and I started painting as much as I could and entering art fairs on the weekends. My coworkers at my job began buying my paintings, also, and pretty soon I quit my job and went into painting full time. Never looked back and never regretted it!
Who are some of your influences? I love the work of deceased painters John Singer Sargeant, Joaquin Sorrolla and James Reynolds (all oil painters), and living artists Matt Smith, Katherine Stats, Daniel Gerhartz (all oil) and Alvaro Castagnet (watercolor). I'll never paint like any of them, but they all greatly inspire me.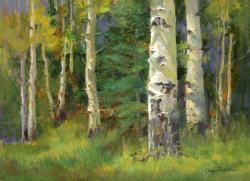 What has the process been like making a name for yourself in Estes Park? I came to Estes Park for the first time when I was in an art show elsewhere in Colorado and a friend invited me to stay in a cabin she'd rented for her family. I loved Estes Park and began painting in the plein air event, now called Plein Air Rockies. I also entered other shows sponsored by the Cultural Arts Council Fine Art Gallery, so I've been able to meet a lot of other artists here as well as patrons at the plein air show I've been doing for the past thirteen years now. This has helped me get established here, as well as being a member of Plein Air Artists Colorado and painting in the Estes Park Plein Air group. I've shown in some galleries here and currently show my work at Gallery VII on Highway 7 in Allenspark and in Bear Necessities at 201 Park Lane here in Estes Park.
What do you hope to do with art in the future? Keep painting, keep learning and keep improving. I will also keep teaching my watercolor classes and oil painting workshops. I have some awesome students and my watercolor class is like a big family. I love watching people learn and grow and I love being a part of that. I will never retire - someone would have to tie me down to make me do that.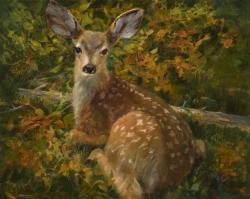 What's your favorite spot/place in Estes Park? In general, Rocky Mountain National Park is my favorite place - I paint there every day - and more specifically, I love Endovalley and Wild Basin.
What is the best part about being an artist in Estes Park? I get to wake up every morning and "go to work" eight minutes from my house to paint in one of the most beautiful parks in the United States. Who could want more?
What do you do around Estes in your free time? I generally don't have any free time. However, on the weekends my husband and I usually go on a hike. He is used to stopping very often so I can take a photo.
You can find Cecy Turner's lovely artwork at the Cultural Arts Council Fine Art Gallery. And check out the rest of the Estes Art Scene!