Editor's Note: Professional ski mountaineer Caroline Gleich was one of Estes Park's inaugural Athletes in Residence. She spent her time in Estes rehabbing a torn ACL, visiting friends, and prepping for an expedition to Mt. Everest
By Caroline Gleich
Estes Park has a knack of instilling passion and spirit
I believe that traveling to new places has a way of unlocking our potential as humans. When I leave home and embark on an adventure, I am vulnerable, and in that vulnerability comes unlimited growth. My time in Estes Park, as its first Athlete in Residence, definitely reaffirmed this.
The day before my trip to Estes Park, I felt overwhelmed with everything to pack. I had duffel bags loaded with gear for running, hiking, climbing (rock and ice), biking, a bulky knee brace to protect my freshly torn ACL, and a 70-pound Hypoxico tent so I could continue my pre-acclimatization for Everest (yes, you read that right-- I'm recovering from a relatively serious injury and planning to climb Everest this season). I felt that familiar tinge of anxiety – was I forgetting something? Did I have everything I needed? How will my knee hold up?
After taking far too long to pack, I loaded up the car and headed to the airport for a short flight from Salt Lake City to Denver. In baggage claim, I met my friend fellow ski mountaineer and adventurer Brody Leven, and together we made our way 75 miles to Estes Park.
Estes is an amazing basecamp for adventures in Rocky Mountain National Park and surrounding area. You'll never run out of places to explore or things to do. There's nearby Mills Lake–popular with hikers and anglers, or the annual Elk Fest which draws thousands for up-close wildlife viewing every fall. We were there for neither (Ha!), but here instead for early spring climbing, skiing, fat-biking, and camaraderie.

We met up with Colorado local Josh Jespersen, a former Navy seal and holder of the FKT (Fastest Known Time) for skiing/snowboarding all the Colorado 14ers. Josh would join us for a cragging session on our first day in town at The Thumb. As I played on the warm rocks, I felt an incredible sense of grounding. Like I was in the right place at the exact right time.
When I travel, I love to meet up with the locals to find out more about how they live, so the next day I linked up with Quinn Brett, an accomplished big wall climber, former ranger at Rocky Mountain National Park, and Estes Park local for over a decade and a half. I first met Quinn on a Washington D.C. lobbying trip to advocate for protecting public lands.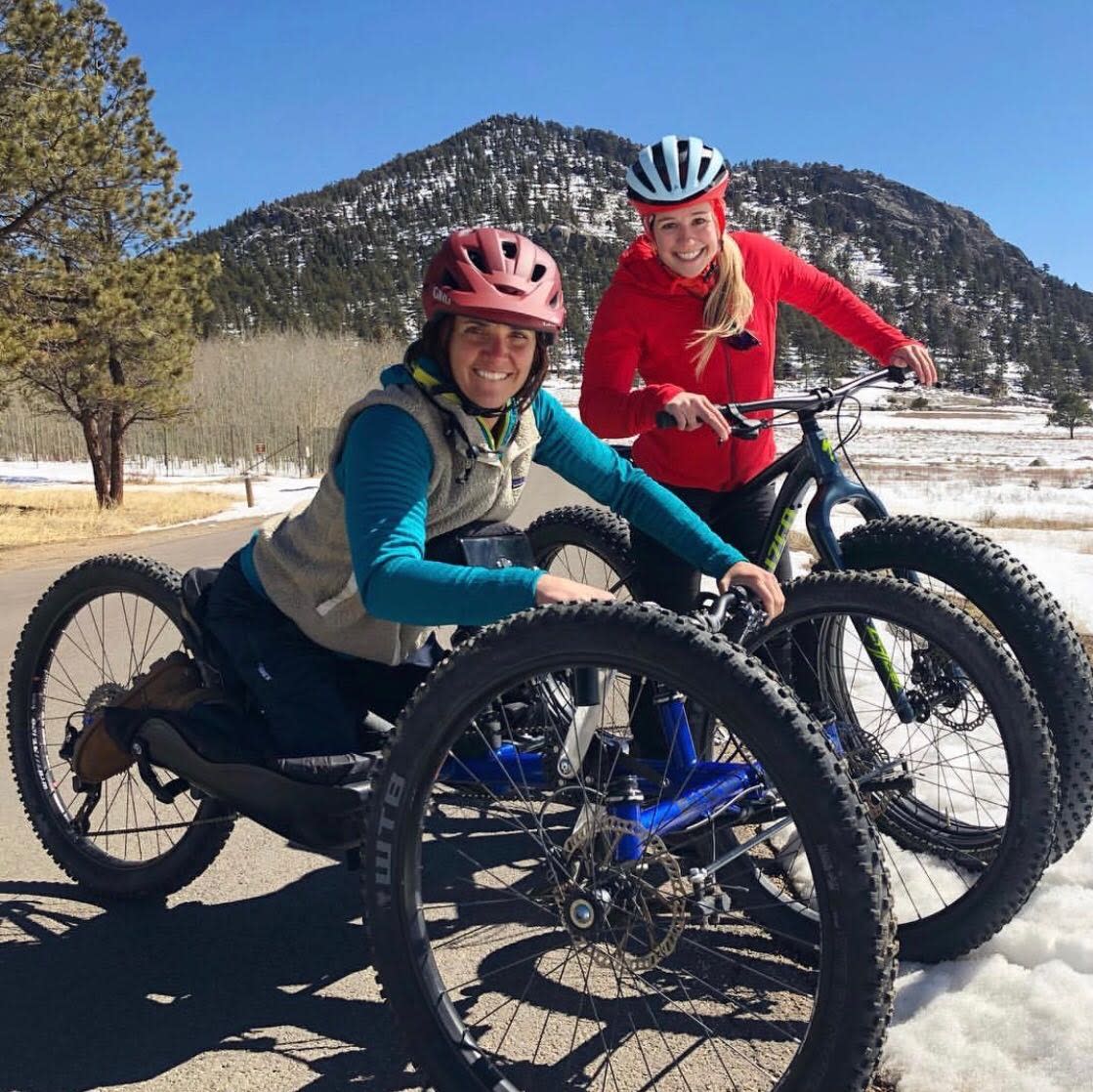 In 2017, Quinn fell while climbing El Cap, and the accident left her paralyzed from the waist down. I spent a day following her on her hand-cycle and sit-ski, and the time we spent energized me immeasurably. I've always admired her bravery and courage, whether it's fighting for public lands or navigating life in a wheelchair. It seems part of that strong spirit comes from her time spent in Estes Park. The area seems to create passionate, resilient spirits.
On the last day of my stay, I connected with one of my best friends and Colorado local, Brooke Froelich along with her two children, 4-year-old Huck, and 5-month-old Tatum, to hike at Sprague and Bear Lakes. I've known Brooke since before she became a mother, and we made a pledge to continue our outdoor adventures after she had her first child. While some people have criticized us for talking her children skiing when they were babies (we always stick to non-avalanche terrain and easy slopes), I'd argue that the real risk is not getting outside at all. Time spent outside is so formative.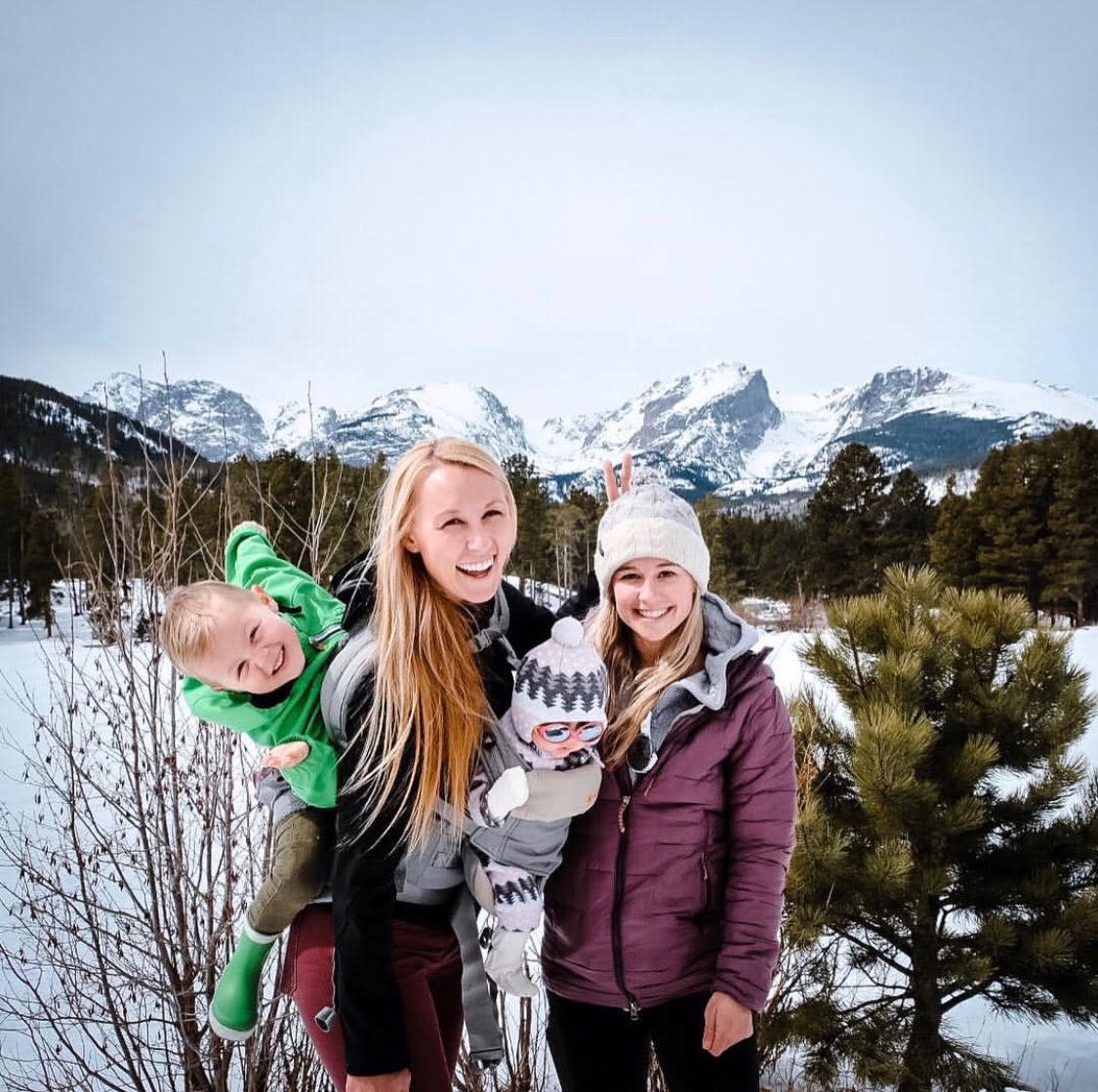 While it can seem hard getting ready to go, difficult to pick a trail, or risky to leave the safety of home and venture out into the unknown, we risk losing a part of ourselves as humans if we don't. The real risk is missing out on these shared experiences, these places where we are most vulnerable, and where we can find the deepest connection with nature, and with one another.
I relearn this every time I travel but rarely so strongly as I did in Estes Park.