Editor's Note: Anton Krupicka is most well-known as a mountain ultrarunner, with several high-profile race wins and course records in his past. Recently, however, he has become most interested in a more diverse set of human-powered mountain adventures, using his endurance background to often combine running, biking, and skiing with climbing to access remote objectives. His trip to Estes involved biking from his hometown of Boulder, and biking trails and roads around Estes, a multi-pitch climbing adventure, and a high-altitude alpine trail run.
By Anton Krupicka
I live in Boulder, CO---a world-famous outdoor recreation mecca just down the road from Estes Park.  As such, Estes Park and its surrounding terrain are very familiar to me---but it has always represented the next level up from Boulder in terms of commitment and adventure.\
When my friends and I are running in the Boulder foothills, or scrambling in the Flatirons, or climbing in Eldorado Canyon we, of course, enjoy these backyard activities very much in and of themselves. But I know that, at least for me, I am almost always using these outings as training for something else, and usually that "something else" exists in the Estes Park area.
Flatiron scrambling and Eldo cragging are perfect preparation for the big adventurous days in the alpine that often become the main objectives of the summer. The fitness and skills foundation for epic alpine rock link-ups or high-altitude ridgeline traverses or multi-sport bike/run/climb missions is laid in my backyard, but Estes is unfailing the arena for the big goal itself.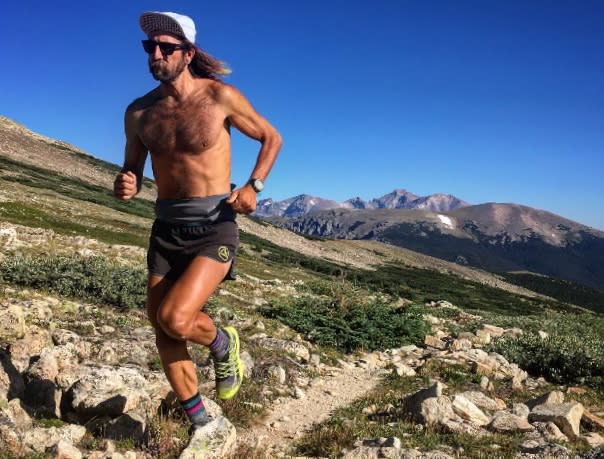 As a result, Estes Park has often been the scene of days in the mountains that have represented personal growth. After a season of training and preparation at lower altitude, Estes is where I go to test myself and those tests always carry a lot of meaning. I've been fortunate enough to take those experiences and apply them in mountain ranges around America and the rest of the world---the Tetons, the Wind Rivers, the Alps, Patagonia even---and without fail, I find myself chuckling about how lucky I am to have Estes Park as my local high mountain area. The wind blows just as hard on the Continental Divide as it does in Patagonia and the alpine granite in the Alps takes a cam and a hand jam just the way it does in the Glacier Gorge. Whenever I'm in some far-flung locale, I take comfort in that familiarity and it allows me to remain composed and often succeed in my goal.
I've been fortunate to have a series of partners over the years who have all helped nurture my personal growth; my week as an Athlete in Residence in Estes Park gave me the opportunity to pay that forward a bit with my good friend, Kyle Richardson, by helping him reach one of those goals that would represent personal growth for him---climbing Longs Peak's Diamond. Spending the week as an Athlete in Residence with Estes Park as our basecamp made achieving this goal that much easier because the objective was right there, only a few minute's drive from town.
Partnering with Kyle to climb the Diamond was yet another in a long list of adventures in the Estes Park area that—though it wasn't strictly new to me—still represented challenge and personal growth in that I was helping a friend achieve something new for him. Kyle had just returned from his first big international mountain adventuring trip in the Alps, so our ascent of the Diamond that week offered a nice juxtaposition of experiences. It was a great reminder of just how inspiring, challenging, and world-class the backyard Estes Park zone remains, no matter where you are in your personal progression.