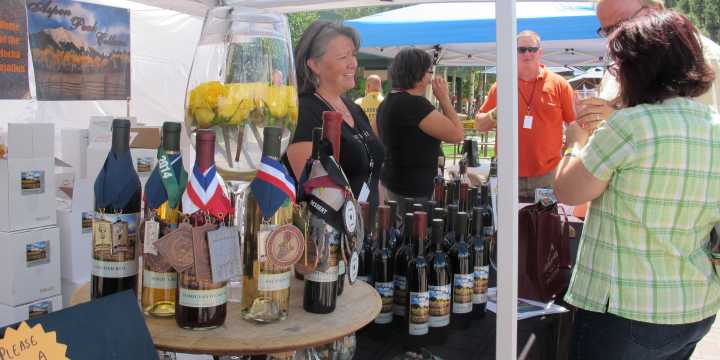 Estes Park Wine Festival
August 11-12, 2018
Tickets
A celebration of Colorado wine in the heart of downtown Estes Park. Enjoy tastings from over 20 Colorado wineries, fresh food, local Colorado vendors and live music. The third annual Estes Park Wine Festival sets up for the weekend in beautiful Bond Park, where festival-goers can soak in the summer sun while enjoying sipping on a variety of locally created wines. From red to white and pink, the Estes Park Wine Festival offers the opportunity to taste and learn about each style of wine and the unique process of how wine is made in Colorado. 
2018 Music Lineup
| | | |
| --- | --- | --- |
| Saturday | 11am-12:30pm | Kenneth Kelly |
|   | 1-2:30pm | Fall River Road |
|   | 3-5pm | Soul Sacrifice |
| Sunday | 11am-12:30pm | Erinn Peet Lukes |
|   | 1-2:30pm | South to Cedars |
|   | 3-5pm | Amplified Souls |
2017 Wineries, 2018 List TBA
Aspen Peak
Avanti Winery
BBC Wines
Black Arts Cellars
Blue Mountain Vineyards
Cottonwood Cellars
Decadent Saint
Garrett Estates Cellars
Lost Prairie Winery
Maison La Belle Vie
Mountain Spirit Winery
Mountain View Winery
Red Fox Cellars
Redstone Meadery
Rykers Cellars
Spero Winery
Sweetheart City Wines
Talon Winery
Ten Bears Winery
Vino Passarelli
Wild Cider
Wild Women Winery
2017 Vendors, 2018 List TBA
Ameritech Windows
Baca St Ange
Booze Bling
Champion Windows
Choice Organics
Colorado Living
Creations in Cork
Cutco
Doterra
Dove Chocolate
Elevation Creations
Forever Rock Candles
Garment Gal
Lakonia Greek Products
Lularoe
Maggie B's
Mary Kay
Ordinary Couples Travel
Painting With a Twist
Passanantes Food Service
Pastamore
Rebel Popcorn
Renewal by Anderson
Rocky Mountain Outback Hats
Sogno Toscano
Sweet and Saucy
Tahoe Kitchen Co.
Estes spotlighT
estes SpotlighT