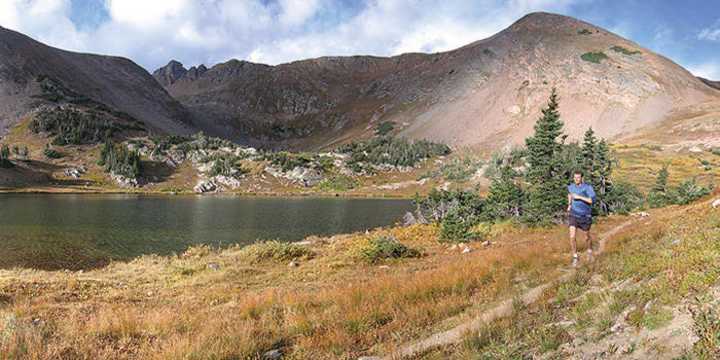 Estes Park Races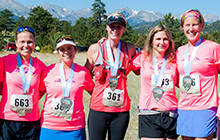 Estes Park is a training, running and racing paradise. With thin air and high elevation, the challenge for runners intensifies, as does the thrill. The breathtaking mountain views and alpine inspiration keep spirits high, even during the longest of races. Whether you are looking to run the trails or are going for endurance, the Estes Park Summer Race Series will challenge you, leaving you in awe of both yourself and your
August 4, 2018: Rocky Mountain Half Marathon
Vacation Race's Rocky Mountain Half Marathon celebrates the beauty of Rocky Mountain National Park. Challenge yourself with this high-altitude race through the spectacular Rocky Mountains and Estes Park. Beginning and ending at Lake Estes. You can find additional details and registration at TheRockyMountainHalf.com.
2018 Date TBA: Running of the Bulls
A special, family-friendly run/walk around the 3.75-mile Lake Estes Trail, the Running of the Bulls both celebrates the magnificent elk rut (mating rituals) and raises funds Partners Mentoring youth, a local non-profit organization. Bring the dogs, the kids and an entourage to enjoy the beautiful scenery and refreshing autumn mountain air. More details can be found here.
September 23, 2018: Estes Trail Ascent Trail Race
This race offers a short challenging ascent at a distance of either 4 or 6.75 miles. The Estes Trail Ascent captures scenery you will want to return to, even when you are not racing! The Estes Trail Ascent is created and organized by the Estes Park Running Club and is part of the last event of the US Trail Conference. Information & Registration.
September 29, 2018: Rut Run 5K
With the Fall Season, Estes Park shines in colors and wilderness experiences! Join us as we acknowledge this unique season at the Rut Run 5k, part of Elk Fest. Kick starting the weekend of events, the 5K (3.1 miles) race offers a short and scenic tour of fall colors, grand views and possible Elk encounters (from a safe distance). Starting and finishing at downtown's Bond Park, runners, joggers, walkers and strollers, will head west on Elkhorn Ave and join the River Walk path at the Performance Park parking lot. Following the winding and scenic path, you will enjoy the radiant golden Aspen colors, hear the sounds of Fall River and pass by the historic residence of F.O. Stanley on the Wonder View return route. This run will quickly ignite your senses and appreciation for nature and its splendor.  More information & registration.
2019 Date TBA: Frost Giant 5K
Lace up your running shoes and grab a warm hat to partake in this fun and adventurous 5K race. Run past the historic MacGregor Ranch and take in views of the snow covered Continental Divide. Registration information can be found through the Estes Valley Recreation & Park District
surroundings.
May 5, 2018, Duck Waddle 5k
Kick starting the Estes Park Duck Race Festival, runners enjoy this Spring time run and take part in the fundraising efforts for local charities. Bring your friends and family for this terrific event!  Registration & Information.
June 17th, 2018: Estes Park Marathon & Half, 10K, 5K and Kids Fun Run Festival 
Bring the entire family to Estes Park for a weekend of running in the mountains.Open meadows. Forested and stream-lined residential roads. Looming, spectacular peaks stretching toward the sky. All are integral to the Estes Park Marathon course that is known for having the highest paved route in the nation. Bond Park in downtown Estes Park is the perfect spot for kid's activities and races
Estes Park 5K
Running along the Lake Estes Trail, runners will love the surrounding mountain views and mostly flat terrain. Information & Registration.
KIDS, KIDS, KIDS: BIKE, RUN, FUN! Festival - June 16th
Located at downtown Bond Park, kids and adults of all ages are welcome join the fun! Kids run race starts at 10:30AM.  Live music, games, face painting, bouncing obstacle courses.
Estes Park Marathon & Half Marathon (with 10K races and marathon relay) 
Celebrating 15 years of fantastic racing, this weekend of running events honors families and a life time of fitness! Bring the family and enjoy a race distance for everyone!  The new marathon course starts from the Dao House, and all races finish at the Estes Park Track and Field. Registration and information.
Estes spotlighT
estes SpotlighT