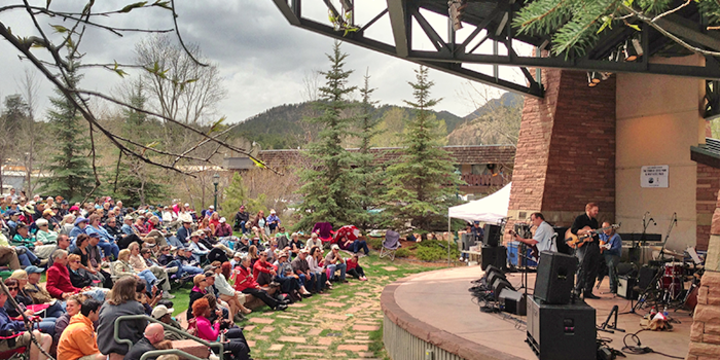 Performance Park Summer Concert Series
Throughout the summer, Estes Park is home to a robust series of free concerts held in the village at Performance Park. This outdoor amphitheater features a grassy hillside for concertgoers to lounge on blankets or in folding chairs, while enjoying picnics, great music and moves in the fresh mountain air. Check the schedule below to see who is playing while you are in town and don't miss out on these great events!
Concerts all start at 7pm, unless otherwise noted and may be weather dependent. 
Check back for the 2019 schedule.
2018 Schedule
June 16 - Just Jazz Quintet - Summer Series
June 21 - Thursday Night Live - Longmont Concert Band
June 28 - Thursday Night Live - Ran Off the Rooster
July 4 - Estes Park Village Band & Jazz Big Band
July 5 - Thursday Night Live - Jeff Van Devender
July 11 - Estes Park Village Band & Jazz Big Band
July 12 - Thursday Night Live - Laurie Dameron
July 19 - Thursday Night Live - Brett Wilson
July 21 - Summer Series - TBA
July 26 - Elk Hollow
August 2 - Brad Fitch
August 8 - Estes Park Village Band & Jazz Big Band
August 9 - Thursday Night Live - Denver Mountainaires Barbershop
August 15 - Estes Park Village Band & Jazz Big Band
August 16 - Thursday Night Live - Dahlby and Friends
August 18 - Dixie Leadfoot & the Chrome Struts - Summer Series
August 23 - Thursday Night Live - Matthew Guernsey - The Kilted Man
August 30 - Beverly Sencebaugh and Friends
September 15 - Summer Series - TBA
Estes spotlighT
estes SpotlighT