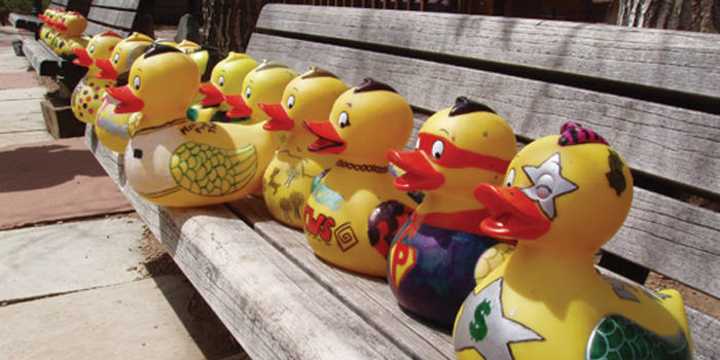 Estes Park Duck Race Festival
May 4, 2019
With a drop from a giant bucket, thousands of little yellow rubber ducks are ceremoniously dropped into Fall River at Nicky's Resort where they begin their journey. The ducks are scooped out of the water one-by-one by waiting volunteers and prize winners begin to be announced.
Interested in adopting a $20 duck to possibly win one of the hundreds of prizes offered, in the past, including a trip to Ireland, Disney, Vegas or San Francisco, while also contributing to over 60 different Estes Valley charities? These charities will receive 95% of the money collected from adoptions. It's a fun family outing with lots of music and entertainment as well.
Race festivities get underway at Nicky's Resort at 11 a.m. on race day. Ducks go into the water at 1 p.m. and activities continue in Riverside Plaza until the last duck swims past the finish line. On race day, beginning at 8 am, Bond Park will feature FREE family fun, music, activities, duck sales and more!  As a bonus for the Duck Race Festival weekend, merchants in downtown Estes Park set up tables outside their businesses for the annual spring sidewalk sale on Saturday and Sunday. 
Get your duck online and find more details at EPDuckRace.org.  
2018 Duck Race & Festival Schedule, check back for 2019 details:
8:30 a.m. – Duck Waddle 5K Race
10:00 a.m. – 12:00 p.m. – Participating Organizations and Charities sell Duck Adoptions in Bond Park.
10:00 a.m. – 4:00 p.m. – Bond Park Festival with Live Entertainment, Food Vendors, Beer Garden, and Fun Family Activities
11:30 a.m. – Starting Line at Nicky's Resort with live music and Duck Adoption sales
1:00 p.m. – Official Duck Race Drop at Nicky's Resort!
1:30 p.m. – Watch the Winning Ducks cross the Finish Line near the Wheel Bar in George Hix Riverside Plaza
1:30 – 4:00 p.m. – Stay the afternoon to enjoy the Festival with live music, food, and activities in Bond Park and George Hix Riverside Plaza.
Join us at the starting line at Nicky's Restaurant to see the ducks drop in the water! Then waddle on down to the finish line at Rockwell Plaza where the winners are posted in real time!