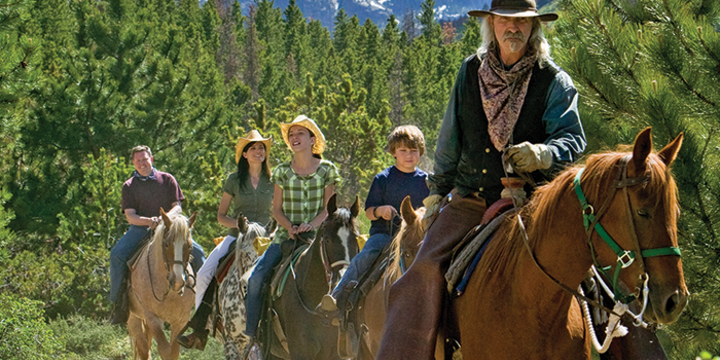 Horseback Riding
Giddy-Up!
You're in cowboy country, so go ahead and saddle up! Horseback riding outfitters throughout the valley offer numerous guided rides-from 1-hour to 8-hour to overnight. Some offer breakfast or steak dinner rides. Others offer pack trips that take fishermen to remote lakes and streams. One ride even takes you back in time to an old homestead! All ages and levels of experience are welcome, even young children. Outfitters know their stock and pair them appropriately.
Sturdy mountain horses follow established trails across private lands, into the mountains and through the Roosevelt National Forest. Some even cross into Rocky Mountain National Park. In these wild areas, keep your eyes open for native wildlife, especially deer, elk and coyote, and interesting land formations. Witnessing it from the back of a horse offers a unique experience you won't want to miss.
For additional information on horseback riding in Rocky Mountain National Park, please visit the RMNP Summer & Fall Adventures Page.
Estes spotlighT
estes SpotlighT