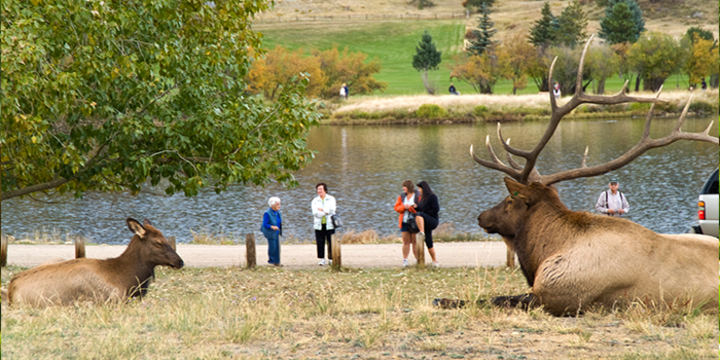 Elk Fest
October 1 - 2, 2016
The haunting call of the bull elk fills the Estes Valley during the early days of fall.  The call begins with deep, resonant tones that rise rapidly to a high-pitched squeal before dropping to a series of grunts.
What is this strange sound and what does it mean? 
To celebrate the annual elk rut and learn about the "wapiti," the Native American name for elk, Estes Park hosts the 18th Annual Elk Fest in Bond Park and the surrounding area. 
The free festival features bugling contests, Cabela's Archery Range, elk exhibits, the Rocky Mountain Raptor Program, elk seminars, elk-inspired arts and crafts, Native American music, dancing and storytelling, self guided elk tour maps, a children's' area with elk-themed activities, and a craft beer garden. For safe & respectful elk viewing tips, please visit our Wildlife Watching page. 
Vendors will display artwork, handmade elk-ivory jewelry, and will offer distinctive elk cuisine.  Mountain men from around the country will gather at the Mountain Man Rendezvous to sell their wares and demonstrate their skills. 
Enjoy the Educational Seminar Tent to learn more about Elk and wildlife in Estes Park from a variety of professionals including Colorado Parks and Wildlife and Mile High Note Game Calls. Representatives from the Rocky Mountain Raptor Program will display on a gloved hand some of their magnificent rescued birds.  It's amazing to see these majestic birds close up! Colorado Parks and Wildlife are on-site offering an Elk Camp where you can explore a variety of educational booths, and their staff will be helping in the field as attendees take the self-guided elk tour!
Live country, rock and bluegrass music will light up the park Saturday and Sunday with popular Colorado bands performing on stage. 
Celebrate elk fest by participating in the 2nd annual Rut Run 5k on Saturday!  Race day registration starts at 8:30am at Town Hall and the race begins at 9am. Participants will start and finish at Bond Park with an elevation gain of 246 feet and will receive a long sleeve shirt, a one pint beer token and burrito. Online registration coming soon! 
On both Saturday and Sunday, stop into Town Hall (adjacent to Bond Park/Elk Fest) to watch a 20 minute video produced by the Estes Park News that shares the history of Elk in Estes Park and how elk adapt to each season in our mountain valley. Learn safety tips for elk watching and see footage of Estes Park elk that has been included in National Geographic, the BBC and many others have used in their worldwide programming. Stick around after with staff from Colorado Parks & Wildlife for Q & A. 
On Sunday from 1-3pm, amateurs compete to see who can sound most like an elk bugling at the Elk Bugling Contest. Rules & registration information coming soon. 
Vendor & Sponsor Information
If you are interested in participating in Elk Fest as a vendor or sponsor, please visit the Town of Estes Park website for details.