Travel Together: Adventures are best when shared
Winter in Colorado. Breathtaking mountain views. Silent serenity in the forests. Sunny blue skies. There are endless ways to enjoy this stunning season in Estes Park and Rocky Mountain National Park - all of which are more fun with a group!
Make memories fireside in your cabin or cottage. Explore the snow off the slopes with sledding and snowshoeing or pick your passion with backcountry and nearby resort skiing. Renew your spirit with a relaxing spa treatment or warm the soul with locally-crafted whiskey. Explore the trip ideas below to find your perfect winter mountain escape! 
Find Your Basecamp
Every group getaway needs an epic headquarters. Find solitude with . If you're looking to be catered to, a bed and breakfast is the optimal spot. For those seeking a bit more privacy, try a hotel, lodge or inn. A private vacation home, cabin or cottage give you the perfect place to hang out and chill! 
Put Yourself into Motion
No trip to Estes is complete without venturing into the national park or forest for some exploration. Start exploring with one of these winter activities!
Hit the Trails
Strap on the snowshoes and enjoy the winter wonderland! Don't have your own? No problem, renting a pair is simple with the gear shops in town. Once you're all decked out, head to higher elevations in Rocky Mountain National Park.
There's an abundance of excellent trail options at Bear Lake and Glacier Gorge trail heads ranging from leisurely strolls to full-day snowshoe trips requiring technical experience and excellent fitness. Whichever trail you choose, you'll surely find tranquility with RMNP as your snow globe.
Winter Fly Fishing
The warmest of the weather may have passed, but that doesn't mean fishing season is over! Flies continue to hatch into February, and sections of the Big Thompson flow freely. Enjoy beautiful views and peaceful snow as you fly fish for a beautiful trout.
Fatbiking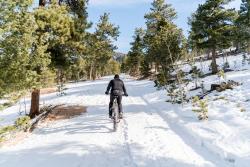 One of the newer activities in the outdoor adventure scene, fatbiking allows riders to experience the thrill of riding a bicycle, on nearly any terrain, including snow! Fatbiking is rapidly growing winter activity taking advantage of the off-road bikes with over-sized tires. The ideal situation calls for moderately packed snow on trails and one-tracks. Fatbikes are available to rent at the Estes Park Mountain Shop. 
Eat, Drink and Be Merry
Comfort Foods
After all your exploring you're sure to have worked up an appetite for a feast. Cook a grand meal as a group, or take advantage of the cozy dining in Estes Park.Estes Park presents traditional choices like American food, Mexican and pizza, as well as some more exotic options like Thai and Himalayan. Get takeout for the cabin, enjoy fresh trout with a view or savor an elk steak by a stone fireplace. 
Libations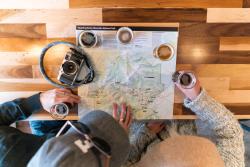 Mountain adventures come to the perfect end with a stop in one of Estes Park's watering holes to appease your taste buds with local craft beer, whiskey or wine! No matter what your favorite beverage is, you can find it in Estes. Don't forget to snag a growler or bottle to take back to the cabin to enjoy around the fire. 
Treat Yourself
After a day of fun and exploration, take a day to recover and recharge. Explore the unique shops of Downtown Estes with one-of-a-kind art, vintage and modern mountain decor and the latest gear for your next outing. 
Warm Up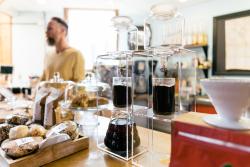 Grab a hot coffee or tea at one of the many spots in Estes Park and recount the stories of the previous day's expeditions. Wherever you enjoy a toasty drink, you're sure to find a cozy atmosphere.
Get Pampered
Take a moment to relax, you've earned it! Rest your weary muscles after some tiring winter activities. There's nothing better than a spa treatment or massage for the ultimate rest and relaxation. If you're looking for a manicure, pedicure or hair services, you can find those too!
Winter Fun & Activities
Find Cold-Weather Adventure in Estes Park
In the village or out in the snow, there's no time here for boredom!
more