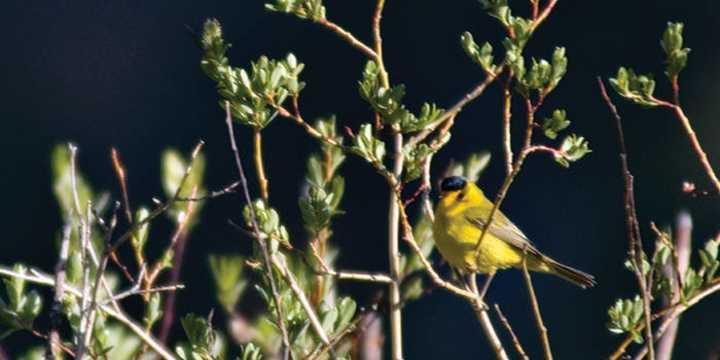 Birding
Nature's Best Game of Hide-and-Seek
Binoculars raised to their eyes, a group of birders watches as a bird darts from branch to branch. Farther along the trail, a nest catches their eye. Bird songs emanate from nearby woodlands and meadows as the birdwatchers stroll deeper into Rocky Mountain National Park. Yes, birds here are kind of a big deal. More than 280 species have been identified, a fact that has helped the national park earn its designation as a Global Important Bird Area.
Many of the species are unique to the mountainous habitats-groves of aspen, high elevation willow, stands of evergreens and the alpine tundra. Depending on the trail, birders are likely to spot white-tailed ptarmigan, blue grouse, Clark's nutcracker, western tanager, mountain chickadee, nuthatches, sapsuckers, waxwings and dozens more. Migration and breeding seasons present optimum times to see these birds and others that might not normally be in the area.
Migration takes place in spring (mid-April through end of May) and fall (August through September, with some birds already moving by late July); breeding season runs from the end of May through July. This time of year feels like Christmas to many birders, who, armed with their checklists, see new birds nearly every day. Hundreds of birds flit and flutter, trill and whistle throughout the park, particularly from sunrise to about 11 a.m. and beginning again about two hours before sunset. 
The Lumpy Ridge area is known for raptors. Sometimes this section is closed to allow the birds to nest in peace. Birders also have to share the trail with rock climbers who enjoy the cliffs as much as the peregrine falcons, red-tailed hawks and goshawks. Nevertheless, the birds are easy to see with binoculars; park officials recommend keeping a distance of 50-100 yards so as not to disturb them.
Other popular areas include Upper Beaver Meadows, Cub Lake and Fern Lake. Lily Lake proves a busy area in the fall thanks to the migrating waterfowl. Find out more about these locations by reading the Top 5 Birding Hotspots article. Park naturalists and volunteers, plus other association guides, lead bird watching programs in the park, such as walks (usually no longer than a half-mile or so over easy terrain) or interpretive talks. The programs appeal to lifelong birders, but also to families and park visitors who spontaneously decide they want to try something different.
Planning to seek out the national park's birds in the winter or spring? Go to our Winter Bird Watching page for additional details. For more information on birding in the village of Estes Park, please visit our Birding section.
For more information on the birds you may find in Rocky Mountain National Park, please visit the official Rocky Mountain National Park Birding webpage.