Rocky Mountain National Park
Rocky Mountain National Park is one of the most visited national parks in the country. With majestic peaks in every direction, wildlife roaming the valleys and some of the most incredible outdoor adventures on the planet, it is no wonder more than three million people flock to the park each year.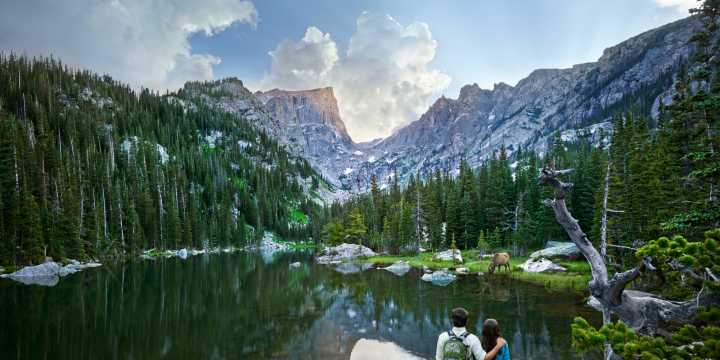 The Mountains
Within the boundaries of Rocky Mountain National Park, more than 100 peaks rise above 11,000 feet in altitude, including Longs Peak at 14,259 feet. These amazing mountains cradle the Estes Valley, providing residents and guests with incredible beauty and inspiration. Many of the taller peaks make up the Continental Divide, where snowmelt runs either west to the Pacific Ocean or east to the Atlantic. The park's vistas are accessible by horseback, on foot, or by car - the most notable vehicle route being Trail Ridge Road, the highest continuously paved highway in North America. No matter your level of interest, adventure awaits you while viewing, exploring and appreciating this breathtaking collection of mountains. 
Real Wildlife
While it is possible to travel through Rocky Mountain National Park and not catch sight of any wildlife, we venture to say that is an unlikely experience. From everyday sightings of chipmunks and mule deer to the moving experience of viewing elk in rut (the mating season), the animals in the park let you know that you are part of something truly wild. Some of these critters are harder to spot than others - they might camouflage themselves in the trees or hide in the underbrush - but look closely and you may have an encounter unlike any other. 
Incredible Adventures
The outdoor adventurer remains busy throughout the year in Rocky Mountain National Park. Open 365 days a year, there are activities and sports throughout the summer/fall and winter/spring seasons. Whether looking for a new route to an adrenaline rush, or simply enjoying a favorite pastime, Rocky Mountain National Park's unique and varied landscapes offer something fun. 
Park Amenities
In addition to its natural wonders, Rocky Mountain National Park provides services and amenities to make your experience special and stress-free. Look through the visitor information and stop by a visitor center to gather all the tidbits you need to know, such as where you're going, what to do and how to prepare. 
Visit the official Rocky Mountain National Park website or call the RMNP information line, 970-586-1206
Rocky Mountain National Park
Estes spotlighT
estes SpotlighT