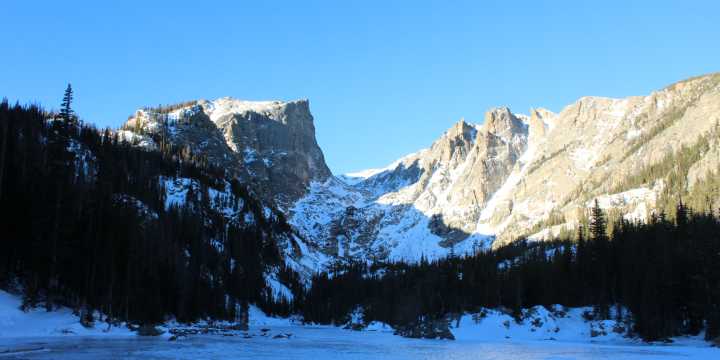 Colorado National Parks Loop
Colorado's National Parks and Colorado National Monument offer some of the most diverse and awe-inspiring displays of geography, history and activities anywhere in the world. Plan a Colorado National Park Loop vacation or start chipping away at each one for your next few gotta-get-away trips. We promise you will look back and ask yourself why you didn't experience them sooner!
Estes Park - Rocky Mountain National Park
Estes Park, base camp for Rocky Mountain National Park, is located on the eastern side of the park and is known as an authentic mountain village steeped in rich history offering activities from mild to extreme wild. Just minutes from Estes, RMNP is one of the largest and most popular multi-seasonal parks in the country, as well as being one of highest. Elevations range 7,860 to 14,259 feet, the highest point of which is Longs Peak.  Trail Ride Road is the highest continually paved road in the U.S. and peaks at 12,183 feet in Rocky Mountain National Park and connects to Grand Lake. Following a route traced over the Continental Divide by Native Americans for thousands of years, visitors can see elk, deer, bighorn sheep, pikas and other native wildlife, including dramatic tundra above tree line. RMNP is 265,000 acres of protected wilderness and contains approximately 450 miles of rivers and streams, 350 miles of trails, 150 lakes, 60 mountain peaks over 12,000 feet and is known for the wide range of easily viewed wildlife throughout the park.
Grand Lake - Rocky Mountain National Park
Rocky Mountain National Park offers a destination on both sides of the park. The western side is Grand Lake, offering year-round recreation opportunities and home to Colorado's largest and deepest lake. Grand Lake is also the snowmobile capitol of Colorado - over 300 miles of trails. The Colorado River begins its epic journey to the sea here - home to the headwaters of the Colorado River. Fragile alpine tundra encompasses one-third of Rocky Mountain National Park, one of the largest examples of alpine tundra ecosystems protected in the contiguous United States.  The park is the source of several river systems, including the Colorado River and the Cache la Poudre, Colorado's first and only designated wild and scenic river. The west side of Rocky Mountain National Park is home to the vast majority of the park's moose population and is great for viewing these huge animals from a safe distance. Must see locations during your visit include: Adams Falls, Grand Lake & Mt. Baldy from Point Park, Trail River Ranch, and Holzworth Historic Site.
Colorado National Monument
Colorado National Monument is in extremely close proximity to I-70 with Downtown Grand Junction nearby. A journey through the 11 red rock canyons of the Monument reveals a story told in stone of millions of years of erosion, changing climate and dramatic geological upheavals. Colorado National Monument is a land of rock-balanced rocks, fallen rocks, red rocks, slick rocks, rocks that form sweeping arches and tapestries, and rocks that interestingly resemble shapes of familiar people and objects. The colorful sandstone and shales that form the cliffs and ledges of the canyons had their origins in deserts, beaches, and rivers 200 million years ago. This area is not a high alpine environment, instead it is a high desert that surprises people when comparing it to the other familiar geographical features of Colorado. Be sure to explore the historic 23 mile Rim Rock Drive to take in all the beauty the area offers as well as Book Cliff Overview that connects with the Canyon Rim Trail, Independence Monument Overlook, Coke Ovens, and Serpents Trail view.
Black Canyon of the Gunnison
The diverse recreational offerings of Montrose and the surrounding area is a big draw to this area of Colorado, as well as the ease of getting here via the regional airport. Montrose Water Sports Park offers 7 exciting features (and ADA compliance) and the new Montrose Recreation Center (largest rec center on the Western Slope) offers a wide variety of sports and activities. Black Canyon is a designated International Dark Sky Park and thus is a highly attended astronomy program location. The Gunnison River within Black Canyon of the Gunnison National Park is designated as Gold Medal Water & Wild Trout Water.  The Gunnison River in the Black Canyon of the Gunnison National Park drops at one of the fastest rates of any river in North America. Within Black Canyon of the Gunnison National Park is the Painted Wall - Colorado's highest cliff at 2,250 feet. The Empire State Building is 1000 feet shorter than the Painted Wall. Must see locations during your visit should include the Painted Wall, Pulpit Rock, Inner canyon, East Portal and Gunnison Gorge.
Mesa Verde
Mesa Verde, located in southwest Colorado, is the only national park dedicated to preserving the works of man and is known as one of the most unique Ancestral Puebloan dwellings in the world. Mesa Verde offers a spectacular look into the lives of the Ancestral Pueblo people who made it their home from AD 600 to 1300. The Ancestral Puebloans lived and flourished here, for more than 700 years, beginning with mesa top homes, eventually building elaborate stone communities in the sheltered alcoves of the canyon walls. In the late A.D. 1200's, in the span of a generation or two, they left their homes and moved away. It is believed they moved south, and are today's many tribes and Pueblos in the Southwest. Today the park protects nearly 5,000 known archeological sites, including 600 cliff dwellings. These sites are some of the most notable and best preserved in the United States. Special tours, such as backcountry hikes, sunrise photo tours, and bike and hike adventures are also available for purchase throughout the season.
Sand Dunes
​​The view of the Sand Dunes is indescribable and unforgettable.  It is the kind of place that you have to see and experience, to actually believe it. The destination is a very visitor-friendly, accessible, family vacation destination and has both an abundance of recreational and educational activities. These are the tallest dunes in North America and spread across 30 square miles within the 150,000 acre park and reaches 750 feet high at an elevation of 8,700 feet above sea level. The Great Sand Dunes harbor at least seven endemic species of insects. Endemic species are those that exist at only one location or area on Earth and they tend to be more numerous in habitats that are distinctly different from the surrounding areas. The main access to the Dunes is easily accessed from the main parking lot.  Sandboarding is a popular activity on the dunes. Outside of the dunes, you will find many popular activities including hiking and four-wheeling along Medano Pass, an off-road route that maneuvers along 25 miles from the park to the town of Gardner.

Estes spotlighT
estes SpotlighT