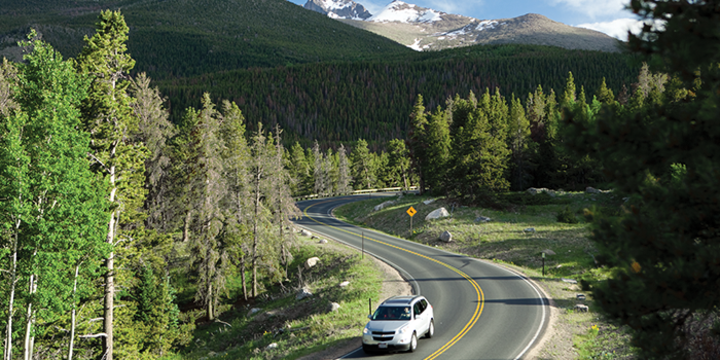 Denver International Airport
Easy Flight, Easy Arrival, Easy Drive
Located roughly 90 minutes from Estes Park, Denver International Airport (DIA) is the region's hub for passenger flights. It was opened in 1995 and remains a modern model of excellence in airport service. It welcomes most major national and international carriers with more than 1,735 flights daily; DIA helps move roughly 144,790 people every 24 hours. Those flying to for a visit to Estes Park can rent a car or schedule a local shuttle to bring them up the scenic, winding river canyon of Highway 36, with no difficult mountain passes to climb. As construction on Hwy 36 continues through the 2014 year, we encourage guests to travel Hwy 7 from Lyons to Estes Park, which adds only approximately 15 minutes to drive time from DIA. View a map here. 
As passengers demand more services, DIA responds. It boasts an extensive ground transportation system that includes everything from public transport to taxi service, car rentals to limos; and, of course, offers plenty of parking. Inside the terminal, passengers find WiFi; dozens of various eateries, services, gifts shops, newsstands and more that help make traveling more comfortable. In addition, flyers can get massages, recharge their battery-powered electronics, exchange money, get their shoes shined and send items via mail or overnight delivery companies. Security remains paramount. Yet, security lines move along steadily, thanks to two access points at either end of the terminal.
Further enhancing the passenger experience, DIA features a dynamic art program in which it presents a collection of public art and a series of rotating gallery exhibits. Often, the temporary exhibitions highlight a Colorado theme, such as the state's Tuskegee Airmen or Colorado artisans.
Directions from DIA: Exit the airport on Pena Blvd to A) Tower Road, north to 120th street, west to I-25, north to CO 66, west to Lyons, Colorado and US 36 west to Estes Park; or B) toll road E-470 northwest to I-25, north to CO 66, to Estes Park as above. Toll charge for a two axle vehicle is $3.50 each way. 
DIA Carriers:
Aeromexico, Air Canada, AirTran Airways, Alaska Airlines, American Airlines, British Airways, Delta Air Lines, Frontier Airlines, Great Lakes Aviation, Icelandair, JetBlue Airways, Lufthansa, Southwest Airlines, Spirit Airlines, US Airways, United Airlines and Volaris.