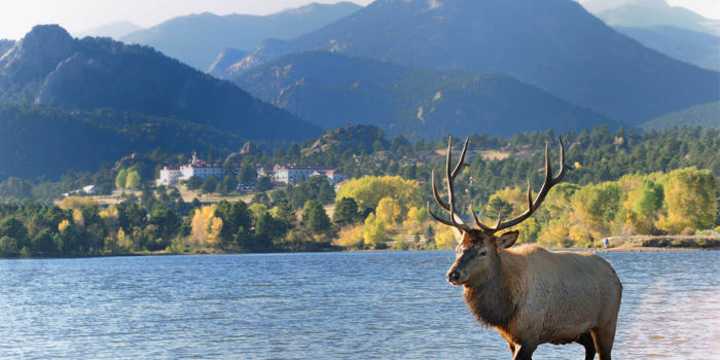 FAQ
We have collected and answered some of the most frequently asked questions about Estes Park and Rocky Mountain National Park into one page. If you are unable to find your question here, please refer to the Contact Us page or call the Estes Park Visitor Center at 800-443-7837 or 970-577-9900.
Estes Park

Q: Where is Estes Park?
A: The town of Estes Park is located in northwest Colorado, about 90 miles northwest of Denver and the Denver International Airport. Estes Park is 7,522 feet above sea level and is at the eastern base of Rocky Mountain National Park. For more information, please visit Getting Here and Maps.

Q: What is the weather like in Estes Park?
A: Weather in Estes Park varies a lot by season, and typically is fairly dry with warm days and cool nights. Summer highs average in the 70s, with night temperatures around 40. Winters are surprisingly mild with little lasting snow in the valley (town) and snow enough for sledding, snowshoeing and skiing in the national park. Winter temperatures are often in the 40s during the day, with nighttime lows in the 20s. We suggest you pack a variety of clothes, with layering options, to be prepared for the varying temperatures. Read more about Estes Park and Rocky Mountain National Park climates on our Weather page.

Q: When is the best time to visit?
A: Once a mostly summer vacation destination, Estes Park has developed into a year-round attraction. July, August and September are the most popular months thanks to the mild, dry climate - offering a respite for those living in hotter, more humid locations. Autumn features the beautiful changing aspen leaves and the majesty of the elk rut, or mating season, during which bulls call and spar to gain dominance. Winter events and activities continue to make this once-quiet season a favorite recreational and family winter getaway. Snowshoeing, backcountry skiing and ice climbing have seen a surge in popularity. Spring in Estes Park is a hideaway for birders watching the migration and wildlife enthusiasts who come to catch a glimpse of the local newborns.

Q: What is there to do while we are there?
A: Whether you are looking for attractions, recreation or events, we have plenty to keep you busy for weeks. Chances are you don't have that much time, so explore the Things To Do and Event Calendar areas of the website and use the Trip Planner tool to create, print and save your itinerary. Don't forget your lodging accommodations, since there's no way to get it all done in one day!
Rocky Mountain National Park

Q: Where is Rocky Mountain National Park?
A: Rocky Mountain National Park surrounds Estes Park on three sides - to the north, west and south. The main entrances to the park are about 10 minutes west of Estes Park via either Highway 34/Fall River Rd. or Highway 36/Moraine Ave. Additional access is available north on Devil's Gulch Rd. (Co. Rd. 43) or south on Highway 7/S. St. Vrain Ave. Access more protected wilderness to the east in Roosevelt and Arapaho national forests (via Devil's Gulch Rd. or south on Hwy. 7) and the Hermit Park Open Space along east Hwy 36. Visit the Maps page for additional orientation.

Q: Are there fees to enter Rocky Mountain National Park?
A: Yes, the most common fee is $20 per car load, not to exceed six people, which is good for seven days. Learn more about the different types of fees and the occasional 'fee-free days' in the Rocky Mountain National Park section of the site.

Q: Can I camp inside Rocky Mountain National Park?
A: Yes, there are many campgrounds and backcountry sites within Rocky. Moraine Park and Glacier Basin campgrounds take reservations up to 5 months in advance, starting January 1. Aspenglen also will be moving to the reservation system in mid-2013. Backcountry camping does require a permit, available at the RMNP visitor centers. More information can be found in our Rocky Mountain National Park section under Camping.

Q: Can I take my dog into Rocky Mountain National Park?
A: Yes, dogs are allowed in vehicle areas, including most roadways, picnic areas and parking lots as long as they remain on a leash that is six feet or shorter. Dogs are not allowed on hiking trails with Rocky, however, hiking with your dog is permitted in the national forest lands and along the Estes Park Trails system in and around town. The Estes Park Trails link to the Estes Park Dog Park at Stanley Park along the small lakeshore south of Highway 36. Many lodging locations are pet-friendly as well; you can search for them by amenity or keyword on our Lodging page. For more information on dog-friendly hiking, visit our Hiking page.