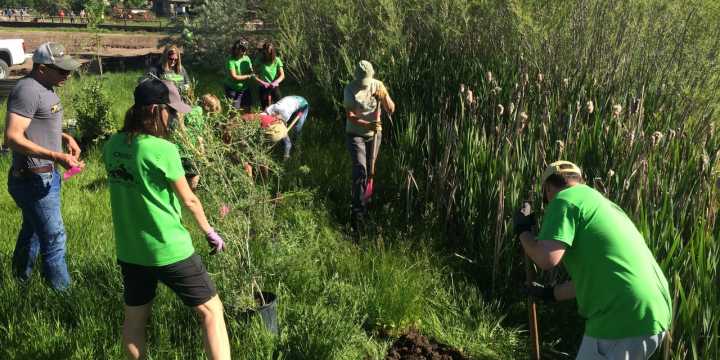 Let's Get Rooted in the Outdoors
It's time to dig in and give back to the land we love - RSVP Required

Visit Estes Park and Oboz Footwear have joined forces for a day of giving back to one of our favorite Colorado playgrounds. Join us for the fun as a team of volunteers get together for a day of tree planting and trail maintenance near beautiful Lake Estes. RSVP Required
Where:
Estes Park, Colorado
When
Saturday, September 30, 2017
12pm - 4pm - Tree Planting and Trail Maintenance
4pm - 6pm – Trailhead Reception with food, beverages, prizes and more
What To Bring:
A shovel (if you have one) and work clothes you can get dirty: long pants, work boots, gloves, hat, sunglasses and a water bottle.
What you get:
Along with a fun-filled day of volunteering, you'll get a free REI Shirt, a free pair of Oboz socks, and a Visit Estes Park backpack. You'll also receive a meal, a fajita bar catered by Peppers Mexican Grill, along with free beer from Good River Beer. You'll also have the chance to win raffles for Oboz shoes, coupons and an REI giveaway.
Lazy B Chuckwagon Supper & Show
Get ready for a rip roarin' evening of music, humor and grub served up cowboy style! Join us for our final night of the season!
Special offer for all Get Rooted volunteers:  25% off ticket (regular price is $35.50- $39.50) and one free domestic beer. Reservations required by Saturday Sept. 30 at noon. Keep Riding Those Happy Trails!
Reservations: 970-235-9400
Direct: 970-507-0317
http://www.lazybchuckwagon.com/
Contact us with any questions you may have.
Sponsors:








Driving Directions: