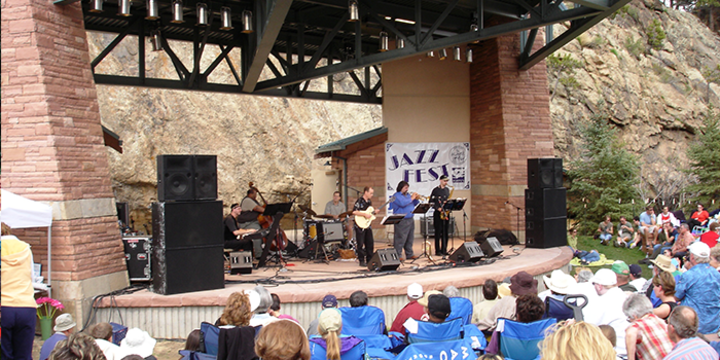 Estes Park Jazz Fest Weekend
June 1-2, 2019
Check back for 2019 ticket prices and line up.
For two days the mountains are alive with the sounds of great jazz. The Estes Park Jazz Fest has become one of Colorado's premier Jazz Festivals, noted for its commitment to excellence in Jazz. Presenting the finest national and regional Jazz artists, the festival features stellar line-ups of performers, representing the music from New Orleans roots to its thriving and diverse present, and venturing into the music's vibrant future. Taking place at Performance Park, you'll enjoy sounds of jazz with views of the Fall River and enchanting rock walls surrounding the amphitheater.
At the 29th annual Estes Park Jazz Festival, enjoy music from seven Jazz bands & musicians over two days. Purchase food from Poppy's Pizza on site, or bring your own picnic. Wine will be available for purchase - no other alcohol is allowed.
Tickets: $10 per day or $15 for a weekend pass - tickets will be sold at the door only, no pre-sale.
Saturday, June 1, 2019
12-12:50pm - Estes Park Big Band Swing
1:10-2:10pm - The Bud Powell Project

Stu MacAskie's Quintet Tribute to Bud Powell

2:30-3:30pm - Purnell Steen and Le Jazz Machine

Classic Jazz and Sounds of Five Points

3:50-5:00pm - Moderno Afro Cubano Quintet
The Jazz continues at night on Saturday at Mama Rose's Italian Restaurant. The Max Wagner Quartet will perform from 6:30-9:30pm
Sunday, June 2, 2019
12-1:10pm - The Max Wagner Quartet

Modern Mainstream Jazz and Jazz Vocals

1:40-3:10pm - René Marie

World-class Jazz Vocalist with Top Flight All Start Big Band

3:40-5:00pm - Lionel Young Band

Award-winning deep blues, eclectic violin