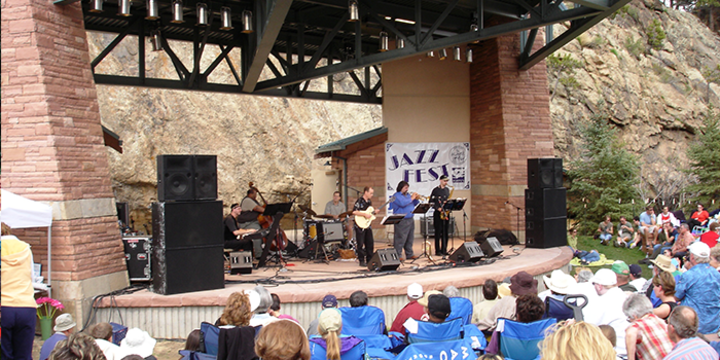 Estes Park Jazz Fest Weekend
June 1-2, 2019
Check back for 2019 ticket prices and line up.
For two days the mountains are alive with the sounds of great jazz. The Estes Park Jazz fest has become one of Colorado's premier Jazz Festivals, noted for its commitment to excellence in Jazz. Presenting the finest national and regional Jazz artists, the festival features stellar line-ups of performers, representing the music from New Orleans roots to its thriving and diverse present, and venturing into the music's vibrant future. Taking place at Performance Park, you'll enjoy sounds of jazz with views of the Fall River and enchanting rock walls surrounding the amphitheater.
At the 29th annual Estes Park Jazz Festival, enjoy music from seven Jazz bands & musicians over two days. Sip on the fine wine of local Colorado wine selections in the wine garden. Enjoy tastings from Estes Park's Snowy Peaks Winery along with Turquoise Mesa Winery.
Tickets: $10 per day or $15 for a weekend pass, 12 & Under are free. Tickets will be sold at the door, no pre-sale.
Saturday, June 2, 2018
12-12:50pm - Estes Park Big Band Swing
1:10-2:10pm - Max Wagner Quartet

Modern mainstream Jazz sax & vocals

2:30-3:30pm - Gabriel Mervine Quartet

Top flight innovative jazz trumpet

3:50-5:00pm - Chipman - Hancock Collective

Straight ahead Jazz, fusion and Neo Soul
Sunday, June 3, 2018
12-1:10pm - Quirktett

Four dynamic jazz vocalists with a great rhythm section

1:40-3:10pm - Jeremy Pelt Quintet

World class, Cutting edge New York jazz trumpeter and his New York quintet

3:40-5:00pm - Lionel Young Band

Award-winning deep blues, eclectic violin