Estes Park is a hub for Rocky Mountain adventures, even in the winter, and makes for the perfect place to take on three sports in one day – a personal birthday challenge.
Inspired by pretty-OK climber and free-soloist Alex Honnold's 29th birthday (when he free-soloed 290 pitches in one day to celebrate), I decided to put together an unofficial Estes Park Triathlon as my own quarter-century birthday challenge - a trail run to Mills Lake, backcountry skiing in Hidden Valley, and a climbing session at the Estes Park Mountain Shop.
The day began with a pre-dawn drive to the Glacier Gorge Trailhead. As we watched the sunrise, we talked about the day ahead of us, with uneasy anticipation. Not only were we not in the greatest trail-running shape because, you know, winter. But it was also our first time making the transition from lift-serviced skiing to the backcountry. I was stoked to take on the challenge and to put my legs to use, rather than relying on the lift.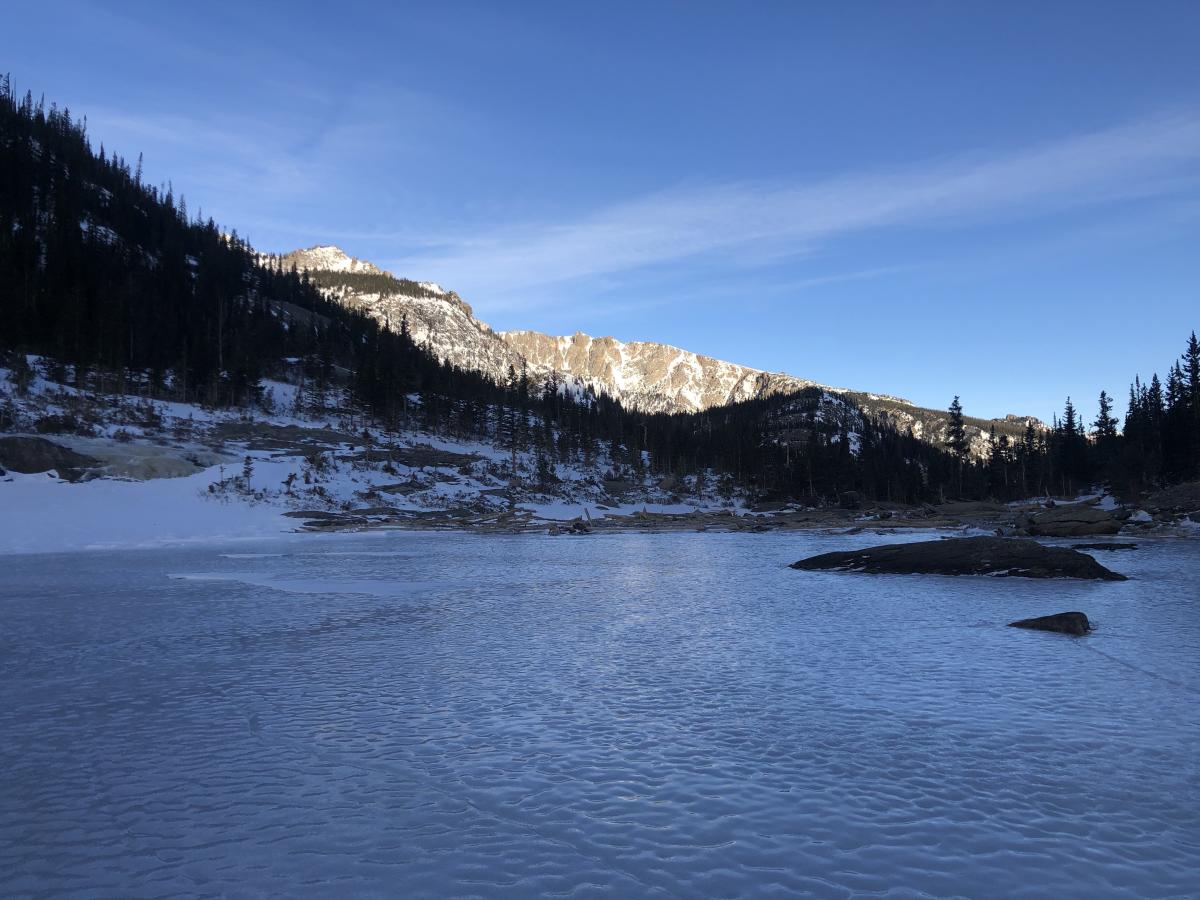 The view from the middle of a frozen Mills Lake.
Once we had geared up and slapped on our microspikes we busted down the trail, with Mills Lake as the destination, a mere 2.6-miles away. Okay, maybe the way out was more of a half hike, half jog. Mills Lake is not only one of my favorite places in Rocky, but probably the world. I've spent many a summer afternoon there with family, and it's always one of the first places I take friends who have never visited the area. Today was just as magical as any other at Mills, if not more. Not only were we the only ones there, microspikes echoing off the ice, but it was a rare, almost completely windless winter day. After spending about 10 minutes catching our breaths while simultaneously having it taken away by the view, we headed back down the trail. Leg one of the triathlon had been completed and went more smoothly than expected. Time to go pick up our rented skis and splitboards from the Mountain Shop. But you know what's between RMNP and the Mountain Shop, right? The Donut Haus, so we picked up a dozen donuts, for fuel of course. Probably the most well-earned donuts I've ever had, and they tasted all that much sweeter because of it.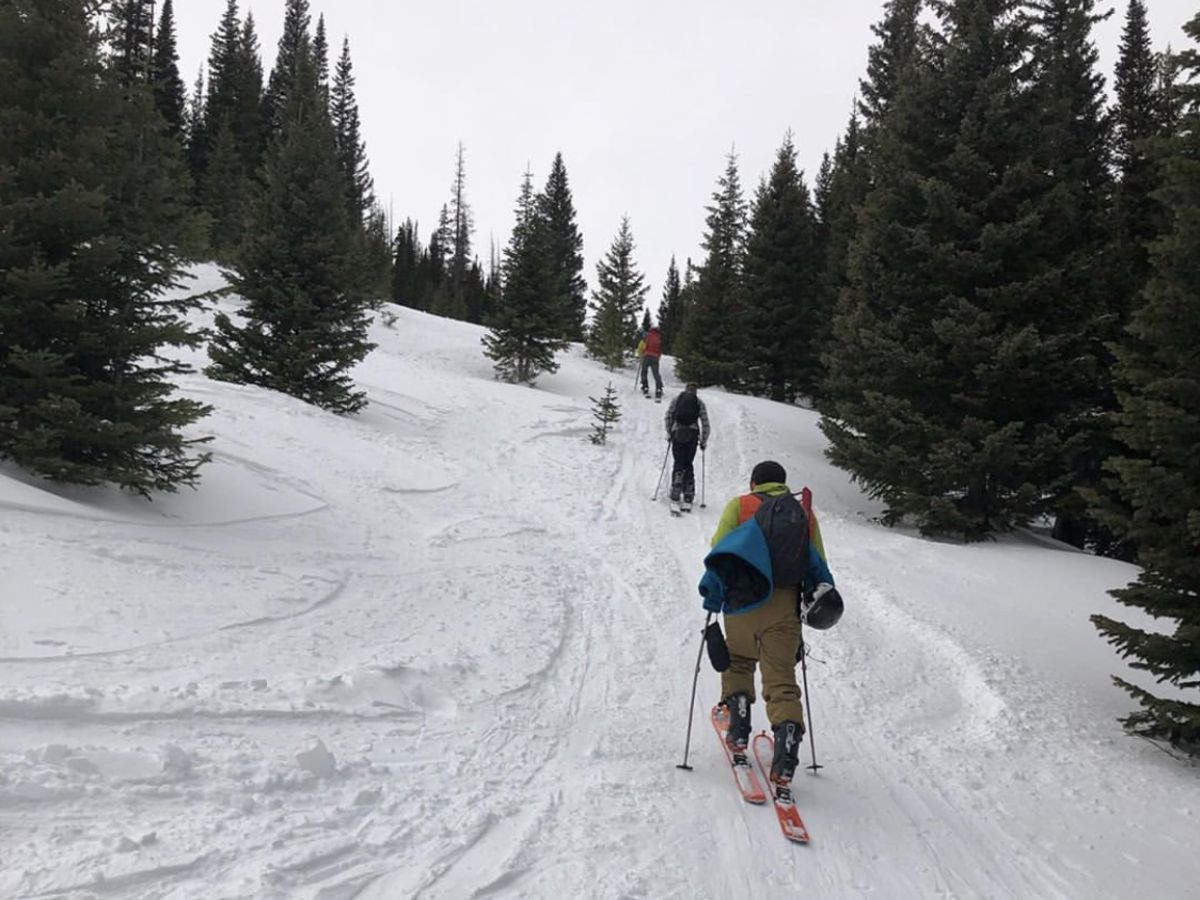 Earning Turns in Hidden Valley.
Leg two was backcountry skiing, for the first time. Since we hadn't been before, we were lucky to have two local experts in earning their turns who know Hidden Valley like the back of their hands. Hidden Valley used to be a ski area in Rocky. Although the old lifts and T-bars have been removed, the shallow runs still exist, making this one of Backpacker Magazine's 15 Best Backcountry Zones for Beginners.  While I knew skinning up would be physically taxing, I didn't realize how foreign it would feel, and how I'd find myself slipping down the slope backward on some of the steeper parts, but I guess hopping on and off the lift didn't come naturally either. After our approximately 1-mile uphill endeavor to Trail Ridge Road, it was time for (at least what we resort skiers expected to be) the fun part. We stuffed our skins in our packs and skied down the way we came on about an inch of powder on top of some nice soft snow. The way down was great, but at the bottom, there was a discussion. "I liked the way up better." Blasphemy, or was it? In the end, you won't stick to the backcountry if you don't enjoy going both directions as well as the more intimate connection to the land and the need to read snowpack and travel with friends you trust. And we certainly did, so much we went back for another. The second one definitely caused more fatigue, so after skiing back down, a consensus was easily reached to call the second leg of our triathlon completed. On to number three.
For leg three we went back to the Mountain Shop, not only to return all of our backcountry gear but also round out the triathlon – climbing. If you haven't climbed at the Mountain Shop and enjoy gym climbing, you're missing out. It's not gigantic, but there are plenty of route selections, plus a MoonBoard and a Treadwall to keep you climbing forever. After about a 2-hour climbing session (with plenty of "resting" on the crash pads and lawn chairs) we called the triathlon a success. There's no better place to enjoy the diverse range of mountain activities than Estes Park, and we're already trying to figure out how to up the ante next year.