I have lived in Estes Park for two years, but have been a summer visitor since childhood. Certainly other seasons have their perks, but warm weather is what I am waiting for, and what I dream of when I think of living in the mountains. There is so much to anticipate: wildflowers, ocean blue skies, hot sun blazing at mid-day on my fair skin, and then afternoon showers that cool everything off creating pine perfume. And of course, long evenings with family and friends. Summer is the best time to get out and become one with the mountains. Whether I am feeling spontaneous and schedule-free or disciplined and plan a little bit ahead and make a reservation, there are many adventurous activities from mild to wild that satisfy my summertime passions.
Cycle Down Trail Ridge Road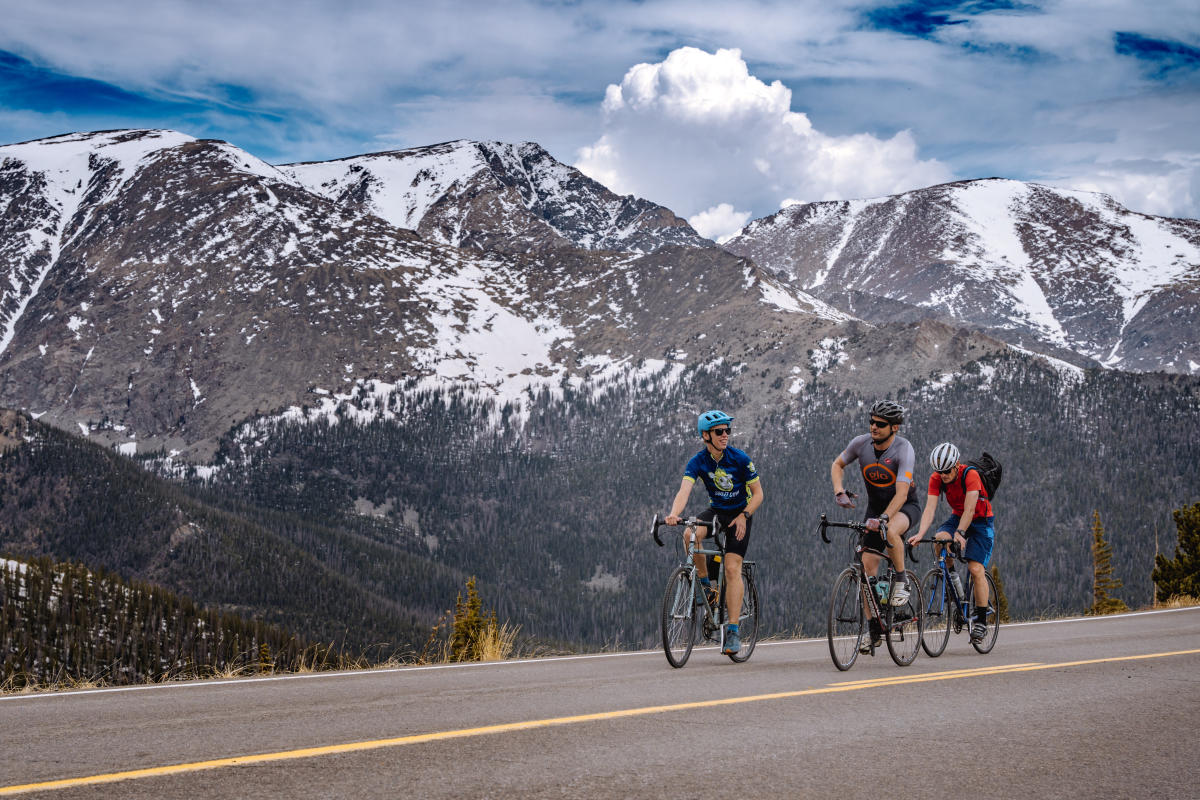 Trail Ridge Road is the highest continuous paved road in the United States, climbing just over 12,000 feet. Cruising Trail Ridge is thrilling, to say the least. You can pedal up and coast down, or you can take advantage of local company, New Venture Cycling, that transports groups and gear up to the top and leads riders down together on a guided tour. The first ten-mile stretch rolls thru an open alpine expanse with rugged and shocking vistas above timberline. The road then cruises down thru a thick subalpine forest and levels back out around 4000 feet below its starting point to a lush zone of grasses, rolling run-off, and flowering shrubs. Several stops along the way allow for the perfect selfie.  New Venture Cycling provides bike, helmet, RMNP entrance fee, van trip up and a guide down ($80). It's a once-in-a-lifetime thrill, unless you are like me who craves a mild dose of adrenaline at least once a year.  Who doesn't need that kind of "I'm alive" tonic now and again?
For those looking to blaze thru the park on their own, road bikes can be rented at The Mountain Shop ($40)
Hike to an Alpine Lake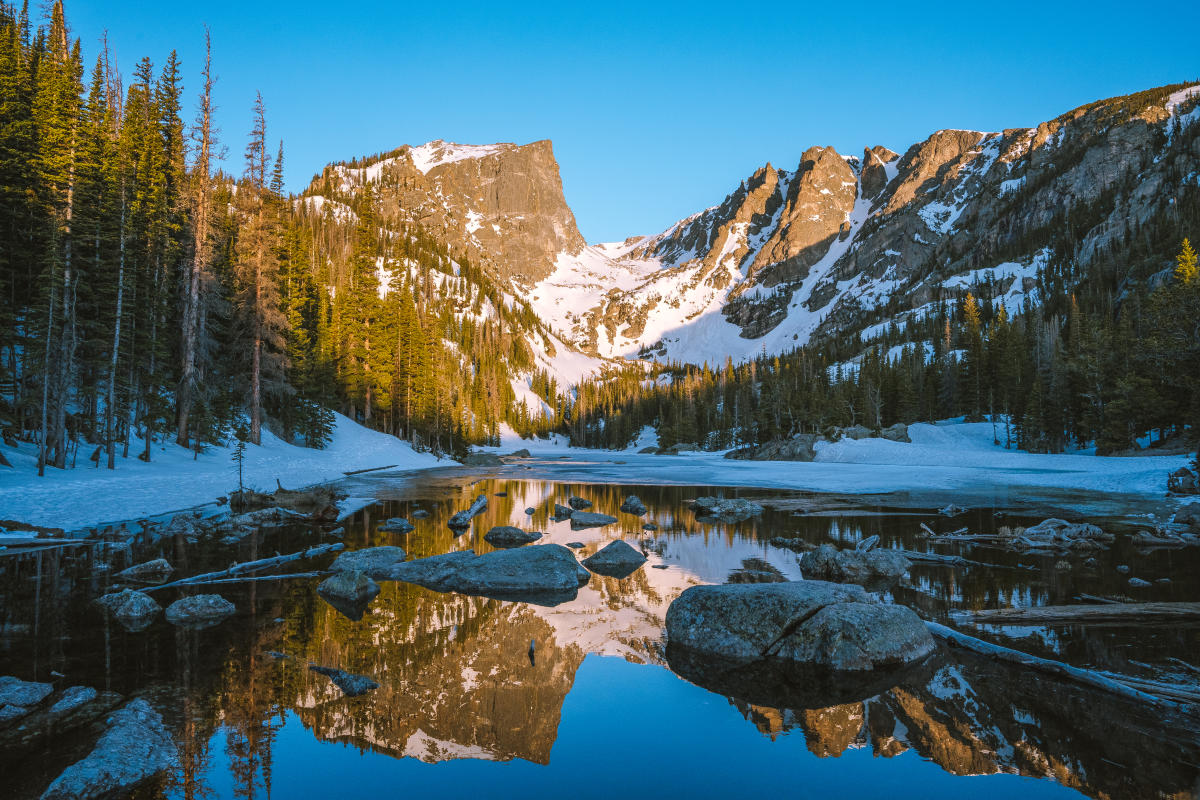 Rocky Mountain National Park makes it easy to access a variety of Alpine Lakes. If you are not up to a hike, or just want easy access, you can literally drive to the lake. This is how I have introduced my out-of-shape husband and young daughter to the wonders of water at this altitude. When you drive thru the entrance to the Park, grab a map and choose your desired elevation gain and distance. For those who like to plan ahead, you can certainly map out a day hike or prepare for an overnight camping trip.
Alpine is considered 11,400 feet and above, which is generally the same elevation as timberline. This is the boundary above which trees stop growing - it can be desolate feeling and very dramatic. Marmots, miniature flowers and Bighorn Sheep live in this zone. At this elevation, you feel on top of the world! The views are endless and awe-inspiring. You can dial in your workout goal by finding the alpine lake that matches your desired challenge, but the achievement also comes with the reward of sitting by a lake releasing all of your stress, which is always profoundly grounding and life-changing.
Emerald Lake and Lake Hiayaha are two of my favorite alpine lakes. Don't forget from May 28 to October 11, 2021 you'll need a Bear Lake Corridor timed-entry permit to access the Bear Lake Trailhead. The seasonal shuttle is running within the corridor, but the hiker shuttle previously connecting the Town of Estes Park and Rocky Mountain National Park will not operate in 2021. Bear Lake alone is a scenic dream, and starts you at roughly 9,500 feet. Head towards Nymph Lake, known for its lily pads and floating timbers, then hike up towards Dream Lake. You will arrive at a pristine pool reflecting the intensely rich colors of blue sky and forest green, picture perfect (as seen on postcards throughout town). From here, you can head half a mile further to find Emerald Lake. It is only 1.8 miles from the trailhead but offers a little bit of everything: tall pine forest, aspen, wildflowers, and open views of the Front Range. Alternately, head left and travel to Lake Hiayaha, nestled just under Otis and Hallet's Peak (rock faces that world-class climbers scale, amazing when you see them from just below). Take your time to be still and observe the many small creatures who inhabit this area. You will walk out of these woods totally renewed.
Map, trail descriptions, parking and shuttle information can be found here.
Try a Ropes Course
You can do it. I did it. My daughter really really wanted us to try this and I am so glad we did! Open Air Adventure Park is a modern ropes course right in town. I was delightfully surprised at how safe I felt letting my seven-year-old daughter explore independently. The course is marked with 32 different challenges from green (easy) to blue (moderate) to black diamond (extreme). You choose a challenge, rest a minute, and evaluate your next couple of moves. The course has a tiered beehive footprint and is deceivingly expansive with 840 feet of various activities. Groups are staggered, each one with an orientation that runs thru safety, equipment, and the rules of the course. For the cautious out there, be relieved to know there is no way to fall off or lose contact between your harness and the ropes. I thought the fee ($35 per person) was a good value and the experience was well worth it. This is an engaging activity that challenges mental strategy and core strength.  Don't be afraid if you haven't done a plank pose in a while, this fun yet challenging activity will make up for it.
Go Bouldering
Bouldering is a good intro rock climbing - scaling on rocks without the use of ropes or harnesses. I am not much of a gear head and always thought, if I can't get there on my own, maybe I shouldn't go. However, anyone can get down on their hands and feet and scramble around on the rocks.
Bouldering forces us to get up close with the rocks and observe their surface. Some of my favorite colors and textures are inspired by lichen. They are a huge family of microorganisms that look like patches of carpet or underwater sea creatures growing out of the rock surface.
If you want a scramble-hike combo, go to Gem Lake along Lumpy Ridge. The trail is 1.8 miles and gains 900 feet. The trail itself is part hike, part steep step up. Be sure to turn around and take in the great view of Estes Park and Long's Peak. There are a variety of "gemstones" at the top, which provide a rocky-knob playground.
Overlooking the west end of town is Estes Park's "classic scramble," Old Man Mountain. A quick half hour scamper offers amazing views but many also come here for the spiritual history of this hill.  Native American's considered it a "vision-quest" site and made the pilgrimage to its peak for over 5000 years. For your reward, I am compelled to tell you that near Old Man Mountain is Cinnamon's bakery, mmmwahh cinnamon rolls and gourmet coffee.
If you want to jump out of the car a short distance from town, try the rocks that surround Mary's Lake or take the Lily Ridge Trail off Lily Lake.  
By all accounts, Estes Park is a rock climbers dream, and there are detailed resources available for guided climbs and lessons if you crave a more ambitious ascent (The Mountain Shop, Colorado Mountain School, Kent Mountain Adventure Center).
Ride Horses
Rocky Mountain National Park is surrounded by national forest land, thus creating massive public lands worth exploring, especially with a little extra help from 4-legged gentle giants. Horses are the spirit of the west, and they can take you up hills and thru pastures that you would otherwise never experience. I grew up riding horses in this town; they remain my greatest pleasure. Pet your horse, saddle-up and give them a good rub on the back of the neck and talk to them. Of course, now when I ride, my butt hurts afterwards, but I don't care and I don't tell anyone. I am too busy being twelve years old.
There are many accommodating outfitters in town that can arrange one-hour trail rides to trips over the continental divide and breakfast rides to steak dinners. Sombrero is a family owned business that started in 1958, and takes people all over the valley and RMNP. The YMCA of the Rockies, Cowpoke Corral, the Elkhorn Lodge, and Jackson Stables all take riders into the Park. For an exclusive small group experience on private land and thru Roosevelt National Forest, try Estes Park Outfitters. Call in advance to make reservations for groups, but some can also accommodate walk-ins. Get on your horse and ride!
Stargaze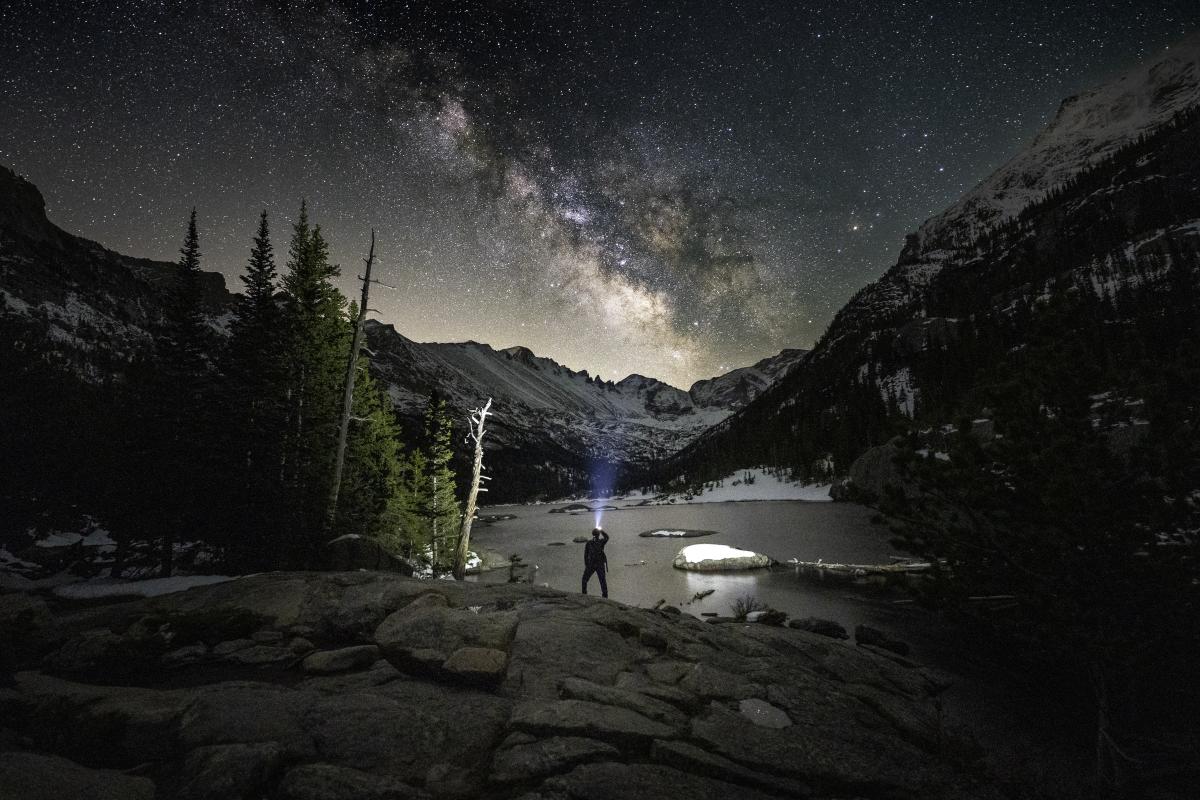 The night sky in Estes Park is dark and magical. The absence of light pollution in Estes allows you to just walk outside and see stars, distant moons, and planets. While it would be interesting to identify known stars and constellations, I am perfectly content with the dotted lights. The Milky Way can be seen with the naked eye, and talk about grounding – it makes me feel small and I like it.
Some people drive up Trail Ridge Road into RMNP for even more galaxy sightings, but just getting a little ways out of town with a blanket will satisfy most.
The National Park offers free educational Night Sky and Astronomy Programs and the local Observatory also offers private viewings of the night sky thru high power telescopes for just a donation.
If you are traveling to Estes in August, be sure to check out the Perseid meteor shower. The stars shoot thru the sky as quickly as one or more per minute. Lay back and rediscover constellations or go for a walk along a trail lit by moonlight.
Enjoy your slice of summer by planning your escape now, you won't regret it.