Ever wondered what it would be like to live in a mountain town? With many schools and offices remaining virtual into the fall, now is your chance. Here's how us locals live the dream – and how you can, too.
If you're here to work
Get outside before, during or after work
Living and working in the mountains affords you the flexibility to get outside in nature when you want to rather than when you can. With very little planning, forethought or travel time you can be adventuring outside and back in time for your next virtual meeting. Sweaty hair? We don't care.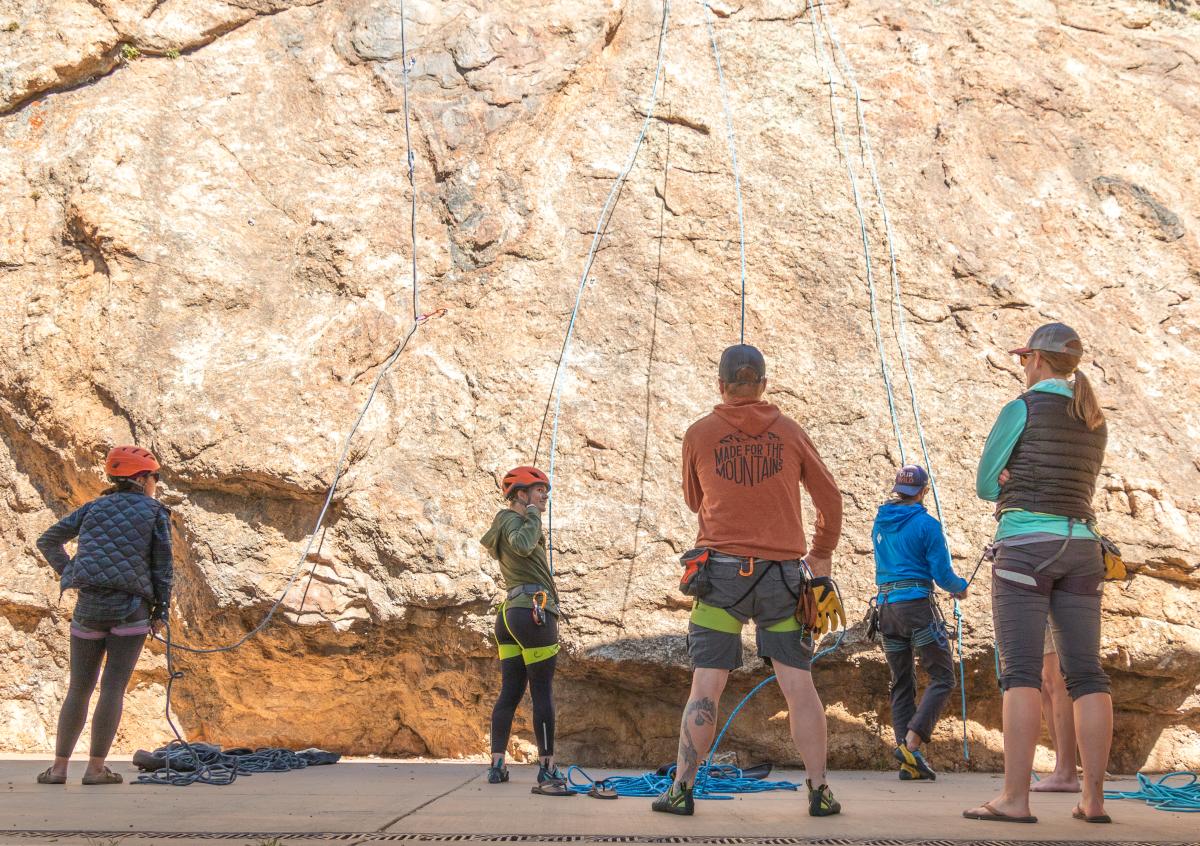 Your workday outdoor adventure checklist:
Take a lunchtime tourist break
Strolling Elkhorn Avenue over lunch will put you in instant vacation mode, energizing you for the rest of the day. Go ahead and get the ice cream… we do!
Enjoy happy hour with a view
Estes Park's local breweries, winery and distillery are set to the backdrop of the Rocky Mountains. What a way to end a workday, especially if you made time to get outside.
If you're here to learn
Get outside before, during or after school
With varied online learning methods being implemented, the "during" in this case might have to wait until lunchtime, but hey – no one is ever too old for recess, and our outdoor adventure checklist works well for families too.
Your recess outdoor adventure checklist:
Take a field trip
Here are recommendations from local parents:
Join Rocky Mountain National Park's Junior Ranger Program. The program provides an activity booklet to help children learn about the natural world and is a great way to make a hike educational. Print your booklets off here rather than picking them up at the park's visitor centers and take note: ranger-led programs are not occurring in 2020.
Take a historic day tour at The Stanley Hotel – it has a rich history that has nothing to do with ghosts.
Sign up for a private, guided outdoor adventure. Learn to rock climb, hike higher or further, or go horseback riding. Gym class will never be the same.
Get creative. Take an art class at Inspired Artisan Market & Studio or paint pottery at Creativity Cabin.
In lieu of physically visiting the Estes Park Museum, which is closed due to COVID-19, follow them on Facebook; their curators post videos and images from their collection to bring the museum to you. Access their historic newspaper, photograph and oral histories collections, as well as virtual programs online.
Whether you're working or learning:
Eat like you're on vacation
Full time access to Estes Park restaurants should not be taken lightly; it's something we lucky locals indulge in regularly. When the weather is nice we get takeout and picnic. Here's a list of picnic spots in Estes Park.
Where to Stay
Check out our ever-growing list of properties that are well suited for remote working and learning, or use the amenities filters to sort through our lodging listings to find the one that suits you.
Dao House
Starting in October, The Dao House is opening up their majestic lodge for their annual residency program, which functions as a winter creative center where residents can live, work, and create with the views of Longs Peak as inspiration.
Fall River Village Resort
Luxury modern-mountain resort condos and townhomes with free WiFi, a back patio or deck, independent HVAC systems and more. Located on Fall River and walking distance from downtown.
Comfortable cabins, stunning mountain views and free, self-led environmental education lessons, tailored to our mountain location, for kids in the 4th-8th grades.
Two-bedroom luxury cabins offering plenty of space to work and learn plus 7 acres of landscaped grounds that include volleyball, tetherball and a heated pool, to name a few.
Ideal location for a quiet place of respite but walkable to downtown's shops and restaurants. 
This charming vacation home not only has an office but is located above the full-service spa that operates it – and along a peaceful river.
Tucked just outside of town on 2 acres of pine-shaded land, The Haven (best for families) and Long View Chalet (best for couples) have a delightful rustic feel.
Utilize the cottage off the main house as office or classroom space to keep remote working/learning separate from living space; mountain views can be seen from both.
Two-bedroom, two-bathroom units provide ample space and privacy for families or couples to work or learn, and every room (including single rooms) has a desk and chairs. Currently, a limited hot breakfast is included in your stay ­– served restaurant style, guests can eat it in the breakfast area or take it to go.
Choose from vacation rentals around town and on the river; they come in all shapes and sizes.
Rocky Mountain Resorts
A variety of vacation rentals, lodges and cottages are available to choose from, offering the peaceful surroundings of Colorado mountain life with all the convenient amenities of home.