Postponed events (due to COVID) are causing varying degrees of mourning amongst fans who make the trip to Estes Park every year to take part in the revelry of their favorites. As we wait to see when they may occur, our team is taking matters into our own hands. Here's what we're doing to stave off our need for these timeless events, and how you can, too.
First: decide which event(s) to re-create
It doesn't have to be just one. At least one of our staffers is planning Winter Whisky Bigfoot Race Festival… we can't wait to hear how that one turns out!
Winter Festival
Estes Park has four breweries and between them offer an extensive array of beer styles. Choose which breweries to visit and get a taster flight to find the ones you like best, then buy a to-go beer to enjoy alongside chili from Smokin' Daves BBQ & Taphouse at your accommodations. Next up: silent disco, which was a feature at 2020's Winter Festival. Cue up favorite playlists, put headphones on, and get the dance party started!
Note: it doesn't have to be winter to celebrate Winter Festival. If the weather is nice take the silent disco outside and dance under the stars.
Wine & Chocolate Festival
Snowy Peaks Winery offers their own handcrafted wine made from Colorado grapes, on site, as well as wine from Colorado's best boutique wineries. They also sell chocolate. Schedule a tasting to find your new favorite and purchase some chocolate to go with it (or if you don't like chocolate, stop by a local sweet shop beforehand) to re-create this popular festival.
Whiskey Warm Up
Elkins Distilling Co. distills and bottles their whisky in Estes Park using water from the nearby Rocky Mountains. Aside from an impressive array of whiskies to sample, Elkins offers excellent cocktails—save some room, you need to try at least one. This event is usually held outside. Re-create this event on the Elkins patio; it has incredible views.
The Whiskey Bar at The Stanley Hotel has one of the largest selections of whiskeys in Colorado so, naturally, is a great place for whiskey tasting. Although it doesn't have a patio, this historic bar will make you feel warm and cozy.
Bigfoot Days
Naturally, the main item on your agenda to re-create this event should be a Bigfoot hunt. Read this guide to finding Bigfoot in Estes Park to prepare. Next, hunt the shops. We doubt you'll find a living Bigfoot but when you least expect it Bigfoot-themed merchandise will jump out at you—and plenty of other things will catch your eye, too. Make That Damn Sasquatch (a Bigfoot Days main attraction) your playlist for the trip.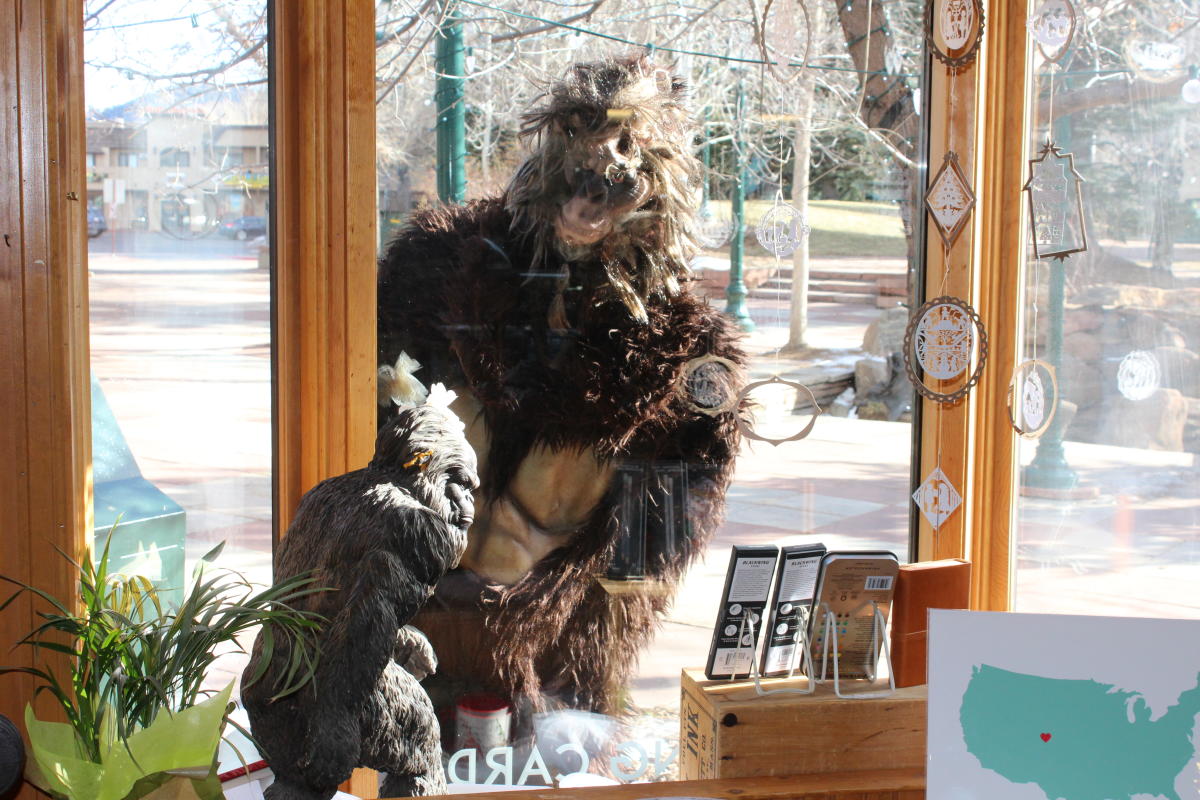 Duck Race Festival
If you read this before May 1, 2021
Run or walk the Duck Waddle 5K. With a 9am start time, you'll be done in time to catch the live stream of the rubber duck race, taking place at the Estes Valley Community Center's lazy river this year due to COVID, at 1pm. Before the rubber duck race, stroll around town and check out the shops you passed during the 5k.
If you read this after May 1, 2021
Take a morning jog or walk on the riverwalk (part of the Duck Waddle 5K course and where the rubber ducks normally race) and make sure to stop in any shops that catch your eye along the way. Then find a patio at one of Estes Park's breweries to re-create the festival's beer garden experience.
Wool Market
The Stitchin' Den is Estes Park's specialty fiber arts store. Schedule your Wool Market stand-in trip around one of their classes or knit-a-longs (offered on site and over Zoom) and be sure to stop in the store to pick up supplies, or a kit for a project to work on while in town.
But what about the people? And the vendors?
Admittedly, a big part of the event experience is being around our fellow humans, which is a bit more difficult to re-create. But hey, we're flexible, right? It's COVID—flexibility is the name of the game.
Vendors are a bit easier. Substitute wandering down a row of vendor booths for wandering Elkhorn Avenue (Estes Park's main street) to visit the shops that catch your eye. The street offers an impressive array of boutiques, galleries, souvenir shops and confectionaries.
Next: find a place to stay
General merriment is in store, plus there is an abundance of things to do in Estes Park in general, so you'll need more than a day. Especially if you plan to re-create more than one event. Find the perfect place to stay.
Last: fill out your trip
Here's an Estes Park playlist to mix in with That Damn Sasquatch and Estes Park bingo and trivia to play between activities. For quieter moments, make sure to pick up a book from our Estes Park required reading list or test your knowledge of Estes with this crossword.
Be sure to check out our events calendar. Local businesses are starting to schedule smaller-scale events like live music and trivia, as restrictions allow.
And of course, we recommend getting outside.
Insider tip: Rocky Mountain National Park has been quite busy on the weekends, lately, so if your trip involves time in the national park, we recommend an early start, or better: a mid-week stay.
When it's time to eat
Estes Park restaurants are open for indoor dining at limited capacity; nearly all offer takeout. Warrior Xpress will deliver to your accommodations. If weather allows, check out these picnic spots.
Estes Park restaurants and craft beverage makers are open and operating with strict safety precautions in place. If reservations are offered, we strongly encourage making them to ensure seating that fits within your schedule.