Estes Park is the quintessential Colorado mountain town, but most are much more familiar with the summer season. Visitors stroll along its quaint main street and flock to the nearby Rocky Mountain National Park. But we'll let you in on a little secret: Estes Park is just as impressive in the winter—maybe even better. The pace of life in this little town slows down, trails and restaurants are less busy, and the fun is just getting started when the snow starts to fly.
The Colorado Mountain School (CMS) is the state's largest guide service, based right in Estes Park, and its knowledgeable staff knows a thing or two about recreating in the Estes area all winter long. (It employs more American Mountain Guides Association-certified guides than any other outfit in Colorado.) We asked them, along with some other Estes Park locals, for advice on how to get the most out of a trip to Estes Park in the winter. Here are their suggestions.
1. Get Off the Beaten Path
"Like many year-round residents, winter is our favorite time of year," says Dustin Dyer, director of the Kent Mountain Adventure Center. "The town has more of a quiet mountain town feel." He's right, and it's amazing how different a trailhead can look when it's under a fresh coat of snow. CMS' Simon Montgomery recommends heading to the Bear Lake Trail, which is a popular summer route in Rocky Mountain National Park. "When you visit in the winter, it's a whole different type of beauty," he says. "You'll see backcountry skiers and snowshoers setting off on an adventure, in search of powder, views, and solitude." Montgomery recommends taking the trail to Emerald Lake.
Dyer agrees with that recommendation. "Very few places in the world can you get so deep into such serious mountains with so little effort," he explains, adding, "I personally think the extra effort it takes to get somewhere like the Loch or Glacier Gorge towards Black Lake are worth it."
2. Try a New Sport
Skiing and snowshoeing are fantastic ways to enjoy the backcountry around Estes Park, but Montgomery points out that there's a whole world of winter sports out there just waiting to be tried. Looking for another exciting winter activity? Try ice climbing, which Montgomery describes as "an activity that combines beautiful frozen waterfalls and the sport of climbing." (CMS guides can get you off the ground if it's your first time.)
If you're not looking to rope up, you're still in luck: The world-class fishing here doesn't stop when the lakes freeze over. Check in at Kirks Flyshop in Estes Park to find out the best spots for winter fly fishing. The Trout Haven Fishing Pond stays open year round, and ice fishing is allowed in all the open-fishing lakes and ponds within Rocky Mountain National Park—you'll just have to use a hand auger. (Tip: The east end of Lake Estes doesn't freeze over in the winter!)
3. Hire an Expert
Anytime you're venturing into the winter backcountry, you'll need to get avy-savvy—in other words, know how to avoid avalanches. They can occur on any slopes steeper than about 25 degrees, which is more common than you might think, but don't let that scare you. CMS guides are highly trained in keeping its clients safe from avalanche danger, so hiring them to show you the ropes is a great way to go. You can also check the local avalanche forecast or even take an avalanche safety class through CMS.
4. Dress in Layers—and Start Cold
"Winter in Estes Park is all about layering," says Jenny Coriell of the Estes Park Mountain Shop. She says that temperatures "usually reach around 40 degrees during the day, with lows in the high teens, and adds that "wind picks up in the winter, and visitors should be prepared for some fairly windy days." If you're staying in town, she suggests long pants, long sleeves, a heavy coat, a hat, gloves or mittens, warm socks and insulated boots.
"Many people start their winter adventures bundled up as warm as they can be," Montgomery says. "But after 10 minutes of walking, they start sweating and regret it when they stop for a break." Instead, he explains, it's better to start a little chilly, because your body will warm up once you start moving. Dress in layers so it's easy to peel one off and keep going rather than do a whole wardrobe change every time you need to adjust your body temperature.
"Don't let low wind forecasts fool you," he warns. Many areas of Rocky Mountain National Park are notoriously windy, so you'll likely want some skin protection even if the air temperature is plenty warm.
5. Bring the Sun Protection
Just because it's colder than during the summer months doesn't mean you're off the hook when it comes to protecting yourself from the sun—in fact, thanks to snow's reflectiveness, it's quite the opposite. "Even if the day is overcast, I recommend sunglasses," says Montgomery, noting that they'll help with both sun and wind. "And on a sunny day, don't forget to put sunscreen on the underside of your nose!"
Conditions in the high mountains can change quickly, he adds, so don't neglect to bring everything you'll need to stay comfortable, even if the forecast is looking sunny.
6. Have Traction for Both You and Your Vehicle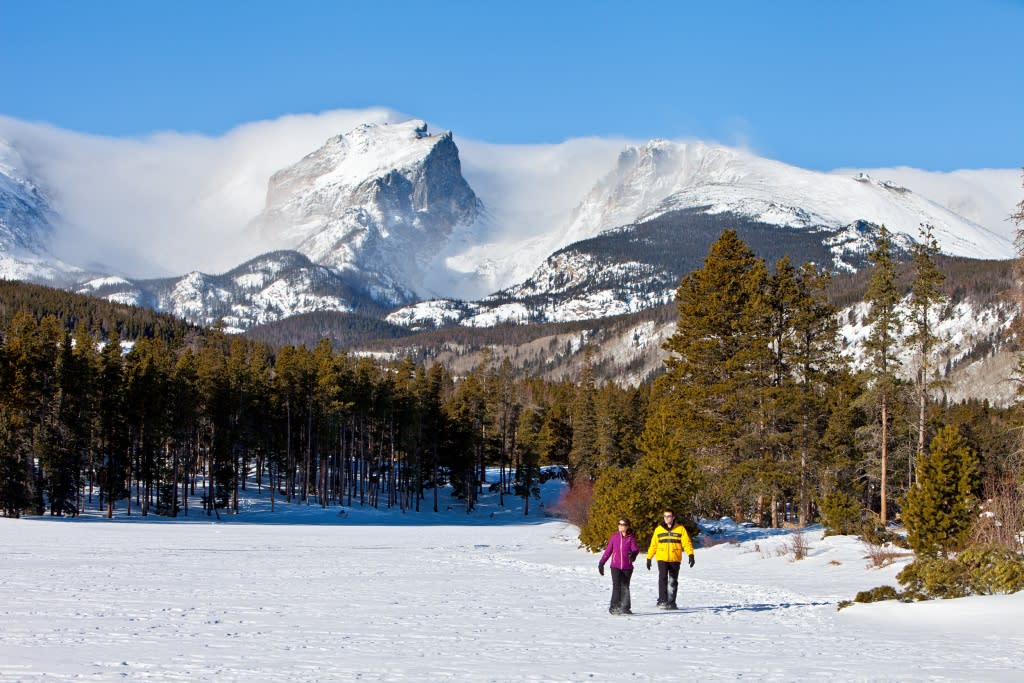 "Statistically, the most dangerous places in [Rocky Mountain National Park] are the roads to the trails," Dyer points out. "It is very common for town to be sunny and dry and the roads in the park to be totally covered in ice and snow."
If you're skiing or snowshoeing, you'll wear specialized boots to keep those toes warm and dry. But while hiking on well-traveled trails, you might assume you can get away with less hardcore footwear. Not so, says Montgomery. Lots of people bring hand and feet warmer packets on cold days as an extra boost, he advises, and you might want to bring traction—like microspikes or YakTrax—to keep you firmly on the trail.
The same principles apply to the vehicle you're driving. "Be careful of wind blowing snow across the road," Montgomery says, adding that if you're renting, it's smart to ask for a vehicle with all-wheel drive during the snowy months. If you're a wildlife buff, make sure to pull safely off the road and into a turnout to watch the iconic Estes Park elk herd.
7. At the End of the Day, Get Cozy
After your snowy adventure, warm up in town with a hot beverage at local roaster Kind Coffee, whose organic, fair-trade blends will have you feeling good from the inside out. Or grab a bite to eat at one of the many restaurants in town. With options from Italian to juicy steaks, there's something for every taste here.
"Join the locals at the Rock Inn," Coriell recommends. "Its cozy atmosphere includes wood-burning stoves, live music, and good food and drinks. It's hard to go wrong there!"
When it's time to turn in, there are plenty of lodging options in Estes Park. Whether you want a cozy cabin, a historic inn, or a vacation condo, there are options for everyone. Winter may be considered the slower time in Estes Park, but you'll still have plenty of activities to keep you busy.
Written by Emma Walker for RootsRated Media in partnership with Visit Estes Park.