It's time to break the ice and get the chilly party started.
Here's what you need to know to make the most of the fun-filled weekend, from how to get around to where to park to what to do and when.
A schedule that is to die for
Frigidly-fun live music, events and quirky games are planned starting on Friday and ending on Sunday. Here's the breakdown.
Friday
Games and drinks at The Barrel, all day. St. Patrick's Day cocktails and Irish whiskey tastings, games and live music by Say Uncle are planned throughout the day.
Icebreaker Kickoff. Bond Park, 4-7pm. Rock out to a free show by Chain Station and A-Mac & The Height and grab food and drink from the surrounding food trucks. The show lasts until 7pm.
St. Patty's Day Beer Mile(ish), Lumpy Ridge Brewing Co, 4pm. It's a pub crawl race with beer!
The Royal Blue Ball. The Stanley Hotel, 7-11pm. A staple of Frozen Dead Guy Days, this year, the ball is at The Stanley Hotel and features performances by The Polish Ambassador, Eddie Roberts & Friends and Evanoff.
Irish Wake. Cousin Pat's Pub & Grill, 7-11pm. Live music from Tahosa.
One Foot in the Grave. Lonigans Nightclub & Grill, An Irish Pub. 5:30-11pm. Enjoy dinner and music by Nick Wagner, then dance to the tunes of the Mountain Town Rockers.
Saturday
The main event. Estes Park Events Complex, 12-9:30pm
A live music lineup of national and Colorado bands will play all day while teams of pallbearers compete in the iconic coffin races and festival goers take part in the Frostbite Fashion Show and whacky games like a brain freeze contest, frozen t-shirt contest, newly dead game, frozen head bowling and a pie toss game. Don't miss the hearse graveyard!
Band Schedule
Living Room Band 12-1pm, Ice Stage
The Pamlico Sound 12:15-1:30pm, Outdoor Stage
Banshee Tree 12:30-1:45pm, Fire Stage
Flash Mountain Flood 1:30-2:30pm, Ice Stage
Shakedown Street 2:15-3:30pm, Fire Stage
Brothers of Brass 3-4pm, Outdoor Stage
Cycles 3-4:15pm, Ice Stage
Toubab Krewe 4-5:15pm, Fire Stage
A-Mac & The Height 4:45-6pm, Ice Stage
Tejon Street Corner Thieves 5:15-6:15pm, Outdoor Stage
Bill & Jilian Nershi w/ Jason Hann 5:45-7:15pm, Fire Stage
Magic Beans 6:30-7:45pm, Ice Stage
The Drunken Hearts 6:45-8pm, Outdoor Stage
Kyle Hollingsworth Band 7:45-9:15pm, Fire Stage
Break Science 8:15-9:30pm, Ice Stage
Tenth Mountain Division, 8:30-9:30pm, Outdoor Stage
Game Schedule
Dead Guy Pie Toss 12-1:30pm
Brain Freeze Ice Cream Eating Contest 1-1:30pm and 4-4:30pm
Newly Dead Game 1:45-2:25 and 3:30-4pm
Frozen T-shirt Contests throughout the day
Frostbite Fashion Show 6-6:30pm
Frozen Dead Head Bowling all day long
Coffin Races 4-5:15pm
Thick n' Thawed Brrrrrrlesque Show. Lonigans Nightclub & Grill, An Irish Pub, 9pm. Denver's Burlective is coming to Estes Park for an inaugural show that is sure to threaten to melt the ice.
Live music by Electrik Flannel. Cousin Pat's Pub & Grill
Sunday
Bands & Bloodys Brunch, various locations around town
Relax after a fun-filled weekend with live music, food and drink at one of the Bands & Bloodys brunch locations around town. From food trucks to sit down restaurants there is something for every taste. Including musical tastes. Find one (or more!) that is right for you.
Polar Plunge. Coffee on the Rocks, 12-3pm
This lively fan-favorite Frozen Dead Guy Days event benefits the Estes Park Nonprofit Resource Center's Be a Giving Guest Program. Each $10 entrant fee will benefit the program while watching is free. There will be live music, an outdoor bar, a beer pong tournament, a costume contest and giveaways for both those brave enough to take the plunge, and for those there for the merriment, to enjoy.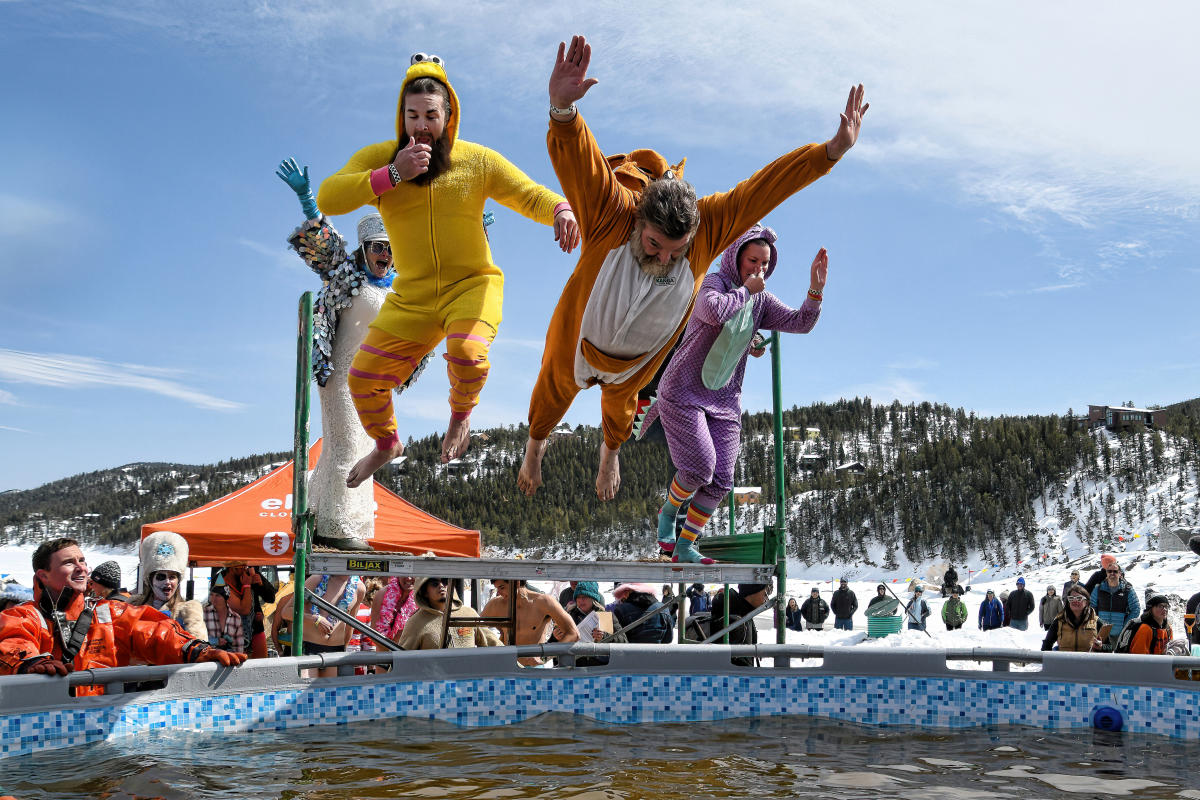 Photo credit: Andrew Wyatt
Other events
Psychic Readings, haunted tours, ghost hunts and showings of Night of the Living Dead.
Other important details
Special offers
Estes Park businesses are rolling out the icy carpet with exclusive specials available for the festival weekend only! See what's available here.
How to get around
Free shuttles are running continuously between participating hotels and event locations Friday, Saturday and Sunday. Find the maps here.
Where to park
Parking is free on Friday at the Estes Park Events Complex and Estes Park Parking Garage. On Saturday, parking and a free shuttle is available at the Estes Park Events Complex ($15), Estes Park High School ($10) and for free at the Estes Park Parking Garage. Proceeds from parking benefit the Estes Park High School Band. Check out the parking map.
Where to eat
Find a complete list of restaurants in Estes Park.
Need last minute tickets or information on the go? Visit FrozenDeadGuyDays.com.