Here in Estes, store owners are taking extra precautions to ensure your safety while shopping. We don't want you to miss out on the idyllic experience that is strolling up and down Elkhorn Avenue, and Estes Park is a pretty great place to find the perfect Christmas gift. So consider these to be our tips for shopping during Covid-19 in Estes Park.
Figure out where to go
Scroll through the list of stores here to figure out your top spots, plan your parking, your mid-morning coffee, and sprinkle in time for outdoor adventure.
Visit online first
A lot of places in Estes have quality online presences, allowing you to browse their inventory to see if something catches your eye (or your wallet) before going in person. Some even offer the option to buy online so you can still support local Estes businesses from your own bed. 
Call ahead
Depending on how in depth a store's online presence is, if you find the exact thing you're looking for, try calling ahead to place it on hold so you can get in and out while still getting the Estes shopping experience. 
Shop the sidewalks and the windows
For the most authentic experience, and for those who don't like to plan – browsing the windows and sidewalk sales are the best way to get a sneak peak before you commit. It's like a first date!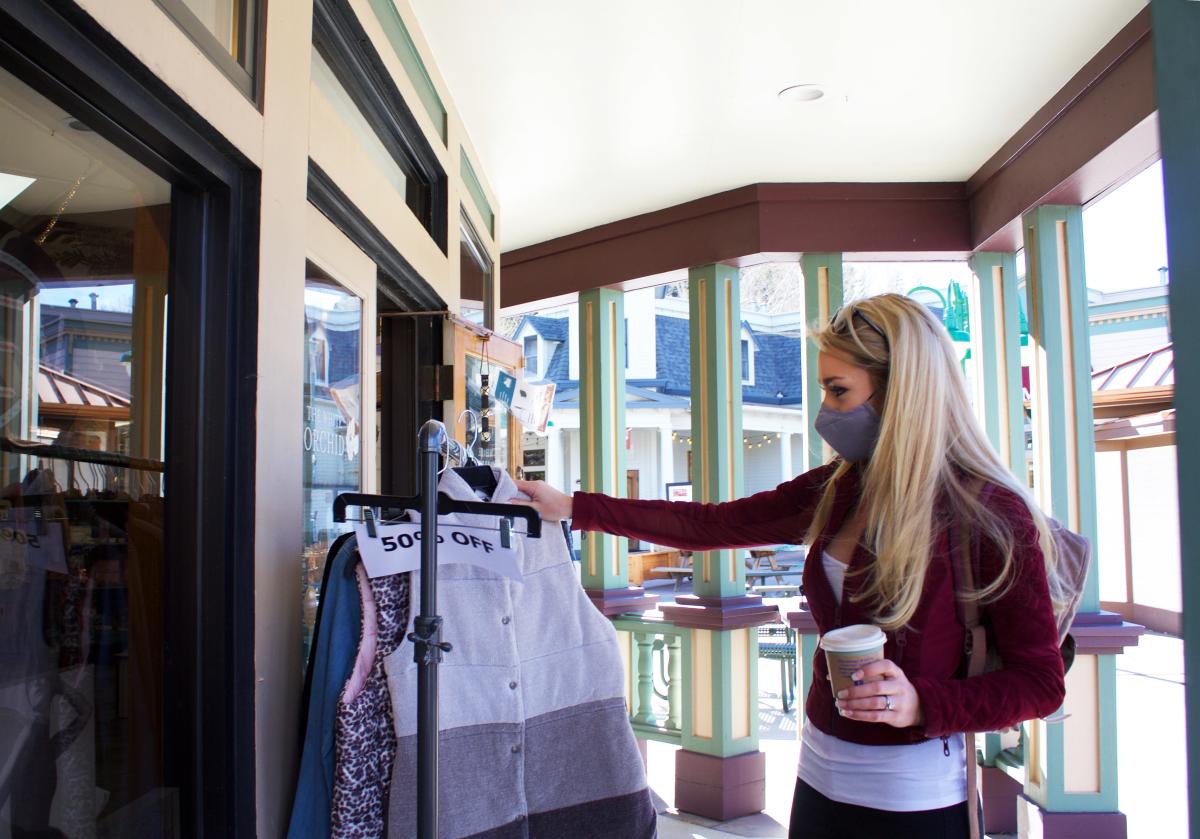 Don't know where to start?
Here are some places that are the gateway stores to a full blown shopping spree.
Macdonald Book Shop
An independent bookstore with all your regional and national favorites. And right now until December 24, any special order made through them and picked up at the store will receive a free beverage from Inkwell and Brew, right next door! Browse their selection or order online here.
Thirty Below Leather
All things leather, all under $30 - as the name suggests. With a wealth of other accessories. Check out their products here.
Once Upon a Hive
Hand-poured beeswax candles and body products. Check out other things that are made in Estes.
Holiday Shopping-
Set the tone this holiday at Simply Christmas and The Christmas Shoppe & Spruce House, you have no choice but to get overly excited (no such thing) about the holidays. 
Earthwood Collections
From pottery to paintings, jewelry to metal art, find and buy unique fine art at the Earthwood Collections art gallery. Check out the other galleries too.
Estes Park Mountain Shop
The store that fulfills all your outdoor adventure aspirations. Check out the bargain basement, their insider tips, their gear rentals and so on. They have a well established online store that will ship right to you or you can pick up in store if you're in town and comfortable. 
If you chose to shop along the downtown riverwalk, you'll find natural resting points along the way that will allow you to listen to the songs of the river and the whispers of the trees. For your final shopping reward, the riverwalk ends at Performance Park, a favorite spot among locals to dip toes in the river and check out the climbing wall that provides a natural backdrop to the amphitheater. Pick up some takeout along the way and refuel before making the walk back.