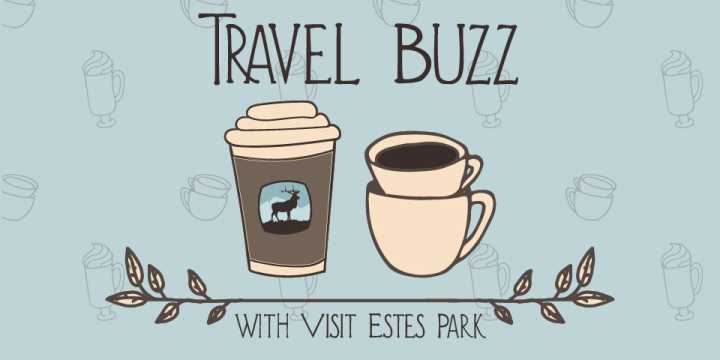 Travel Buzz
Visit Estes Park Has been hosting a series of fun, casual monthly morning meetings that we are calling "Travel Buzz". 
The purpose is to provide an opportunity to get to know you better; learn how we can further support you and your business; and to share a variety of tourism-related information and helpful updates from VEP. This includes a short one-hour webinar that relates to the tourism industry as part of the Travel Buzz series.
We close with a 30 minute discussion about the webinar, answer questions about Visit Estes Park, and assist you with anything you may need. This is also a great time to say hello to the VEP staff and get to know us better!
Travel Buzz Schedule: 
The Ultimate Guide to Logos & Slogans - March 15, 2017
Here it is. The deep-dive session on logos and slogans – and recognizing where nearly every branding effort gets hung up. In this often humorous, fascinating and bottom-line what-to-do workshop we'll cut through the mire of design by committee and will teach you:
The seven rules of developing a brand identity (logo)
The need (or not) for a tag line
Examples of logos and slogans that work, and many that flat-out don't
Memorable tag lines, and some very forgettable ones
When and where to use tag lines, and when and how to use your logos
What to do when you have multiple organizations and each wants their own identity, but you still need brand continuity
How to avoid focus groups and design by committee failures that can lead to ugly politics
I promise you will LOVE this workshop if you're looking at or dealing with logos, slogans and tag lines. It will be fun! RSVP
The Ultimate Guide to "Brand Graphics" - April 12, 2017
We've developed a number of workshops and videos about branding, and here's where the rubber really meets the road. We'll bring your Unique Selling Proposition (your brand) to the forefront, incorporating key marketing messaging - your logo and tag line. And we will show you examples of effective branding and marketing campaigns. You'll see:
A dozen examples of different brands, brought to life in print & video
The Ten–Item Checklist to make sure the look and feel of your brand is 100% effective
How and where to find inexpensive, but quality, help, when you have a less-than minuscule budget to work with
Where best to USE your brand graphics (this goes far beyond just advertising)
How to "sell" your brand to your local community and stakeholder organizations
This is the culmination of "THE ULTIMATE GUIDE" series. Don't miss seeing all the pieces coming together for your award-winning branding and marketing efforts!
Finding and Inspiring Your Champions to Further Your Cause - May 17, 2017
Every successful branding, marketing, downtown revitalization, and tourism development effort took one or two tireless pioneers who pushed the envelope, never gave up, and sacrificed a lot of time, energy and much of their personal life to make things happen. These are the folks we call "champions." Changing the world is not for the faint of heart, but it's the ultimate reward, and your legacy. In this workshop we'll:
Identify the attributes of true champions, who can be your pied piper to move things forward
Uncover how many champions it takes to accomplish your ultimate goals
Tell you the stories of six great champions, what they did, how long it took, the hardships and heartaches, and the results of their efforts. A few you've heard of, most you haven't, yet they are amazing people who will be showcased in local archives as the champions that really made a difference.
If you feel overwhelmed, beat-up, and feel your efforts aren't taking you where you want to go, this is the perfect pick-me-up and will inspire you to keep your chin up and keep pushing forward. You don't want to miss these inspirational stories, and how they found the end of the rainbow through the storm.
The Five Printed Materials You Must Include in Your Arsenal - June 14, 2017
While digital is now the king of how we consume, find, react, and forward the information we use - in just about everything we do – there's still the need for good old fashioned printed materials. For every community looking to promote local quality of life, increase investment (in economic development) and tourism spending, you'll see the five printed pieces you still need to produce to make sure your marketing efforts are 100% effective.
We'll show you examples of each, including specific content to be included in each one
You'll receive PDF files you can use as guides when you develop yours
We'll also talk about how and where to distribute each one
You'll see how many to print and the cost of layout, printing and distribution
And finally, how to fund each one, including the ins and outs of selling advertising to cover cost
For anyone charged with marketing a community for economic development or tourism, you won't want to miss this workshop!
The Resurgence of Downtowns - Priority #1 - July 19, 2017
Over the years we've spent a considerable amount of time and effort helping make downtowns great – again. In this photographic-rich workshop, you'll learn:
The seven reasons why downtowns are back and are absolutely critical to your long-term success as a sustainable community
What it takes to bring millennials (and even GenXers) back home (downtown plays a key role)
The future of downtowns (it's a whole new game)
Why downtowns are a worthy investment (not an expense)
What it takes to bring downtowns back, or make them the community a showcase
Photography showcasing six smaller downtowns (it only takes a couple of blocks) and what they do for the community
This is a terrific primer to help encourage city and other government leaders to understand that downtowns are worth investing in. Its also a great way to foster public-private partnerships (it takes both) to create an outstanding downtown that will benefit local residents, businesses, and your visitors.
Downtown Revitalization - The Priority List - August 16, 2017
Our video series "The 20 Ingredients of an Outstanding Downtown" is a must-see series for anyone and everyone that has an interest in your downtown. In this workshop we'll uncover the priority list: what comes first, and in what order to set your priorities. You'll see:
The "top-10" things you need to do, in order of importance
Low-cost things you can do, and in what order to do them
Photographic examples of each
Who should take the lead on each one
Examples on how implementation of each of these ten things lead to the funding and incentive for the next "to do" priority
This workshop is a great way to get your action item list in order, get support for your downtown efforts, and learn ways to accomplish your to-do list on a guerrilla budget. Don't miss it!
Branding Case Histories - September 20, 2017
If you're like me, you love seeing case histories. Having worked in more than 1,500 communities around the world, I still learn new things every day. In this fun and fascinating workshop you'll witness, through photographs and stories, how six different communities (all of them smaller towns) have found a great focus. You will discover how they have worked hard to put the product in place, and are now seeing extraordinary results. You'll see:
What it was like before and the challenges they faced
How they found their focus (their brand)
What they did, how long it took, and when the "tipping point" took place
The results and the work still in-progress
You'll love these new stories and they will have you pumped-up and inspired to so your story can be one we can share with the world!
Lodging, Attractions & Guides: Your Top 5 Marketing Priorities - October 18, 2017
While we've concentrated our primarily efforts (including webinars and video workshops) on cities, towns, counties and communities, the best, most successful tourism efforts are built on the shoulders of private-sector attractions, activities (such as guide services), retailers, markets, restaurants, resorts and other types of lodging.
In this workshop 100% of the attention will be spent helping travel-industry businesses increase their sales, extend their seasons, and see a stronger return on their marketing investment. You'll see:
Examples of the most effective printed marketing materials you can emulate
How best to spend your marketing dollars - specifically
How to design effective print and online ads
How to better leverage your social media efforts
Ways to extend your seasons
The top three strategies to pull people in the door
The power of having your business "secretly shopped"
If you work in the travel industry, make this workshop a priority! Bring everyone you know that has visitor-based clientele, along with marketing agencies, and stakeholders. The tips and tricks in this workshop are invaluable ways to increase your business.
Contact Elizabeth if you would like a private screening of any of these webinars, as it is a membership-based program.
Estes spotlighT
estes SpotlighT