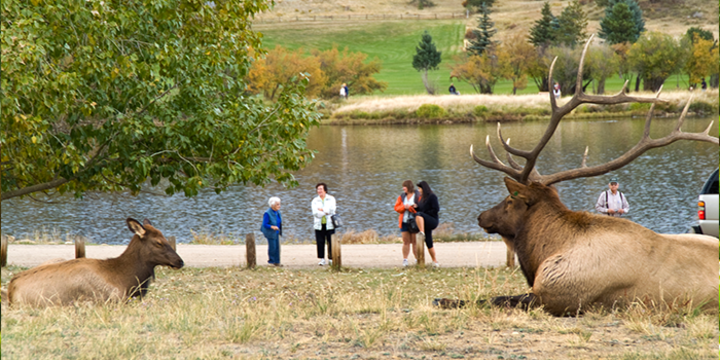 Visit Estes Park Board
Upcoming Board Meetings & Agendas:
December 6, 2016 - Agenda
December 20, 2016 - Agenda Coming Soon 
January 3, 2017 - Agenda Coming Soon 
January 17, 2017 - Agenda Coming Soon 
February 7, 2017 - Agenda Coming Soon
Current Board Meeting Minutes:
Meeting Schedule:
Regular meetings of the Local Marketing District Board of Directors are normally conducted at 2 p.m. on the first and third Tuesday of every month in the conference room at Visit Estes Park's offices, 1200 Graves Avenue. Some deviations from that schedule do occur. Agendas and meeting notices are posted on the bulletin board outside the Hondius Room at the Estes Valley Library no less than 24 hours prior to the meetings. 
Meet the Board:
Scott Webermeier is the general manager for National Park Village, which includes overseeing the Country Supermarket, Other Side Restaurant, Village Store, National Park Village Conoco, and EP Aerial Tramway Gifts. He is a past president of the EP Chamber of Commerce, served on the Park R-3 School Board of Education, and worked with local Cub Scout Pack 8 as Pack Leader and Den Mother. He currently serves on the EP Medical Center Foundation Board of Directors and holds a Bachelor's Degree in Business Management from Colorado State University.
Lindsay Lamson is owner of Rocky Mountain Resorts. The corporation operates 122 vacation property units including those at Fawn Valley Inn, Timber Creek Chalets, Lazy R Cottages, and the Overlook at the Stanley Historic District with numerous homes and condominiums. He purchased his first property in Estes Park in 1988 and began full operation management of the properties in 2004.
Adam Shake is the owner of Neanderthal Social Media, a consulting firm for social media marketing and communication in Estes Park. Adam is active in the Estes Valley Partners for Commerce (EVPC) and works with many local businesses on digital marketing and branding. 
Jon Nicholas is the President/CEO of the Estes Park Economic Development Corporation, formed in August of 2013.  Prior to that time, he served as the Business Resources Coordinator for the Estes Valley Library District, forming regional connections to resources for local business.  Jon has lived in Estes Park for over 8 years.  Prior to that, he worked as an attorney in private practice in Washington, D.C. and Tokyo, Japan, and also worked as a campaign manager on political campaigns in Kansas and Michigan.  He holds a B.B.A. from Washburn University of Topeka, and a Juris Doctor from the University of Chicago.  Jon also serves on the Board for Estes Valley Partners for Commerce. 
Karen Ericson has owned and operated Serendipity Trading Company, a downtown store that sells authentic Native American arts and crafts, since 1998. She and her husband also own Estes Park Self Storage. She volunteers in the Restorative Justice Program and at the front desk of the Police Department. Before moving to Estes Park she served 9 years on a Board of Education in New Jersey. She is an RN and has a degree in journalism from Trenton State College.
Steve Kruger moved to Estes Park in 2008 along with his wife Kaylyn. They are the managers of Solitude Cabins and members of the Estes Area Lodging Association. Prior to moving to Estes Park, Kaylyn and Steve were both employed in the corporate hotel industry for nearly 25 years apiece.   
Morgan Mulch is the owner of Marys Lake Lodge. He and his wife, Ashley, oversee the restaurant and events side of the business.  He is active in the Estes Park Economic Development Corporation and serves on several of its committees.  Prior to moving to Estes Park Morgan spent 10 years in Kansas City developing and overseeing businesses. 
To learn how you can contact a Visit Estes Park Board Member, please email Suzy Blackhurst at SBlackhurst@VisitEstesPark.com.