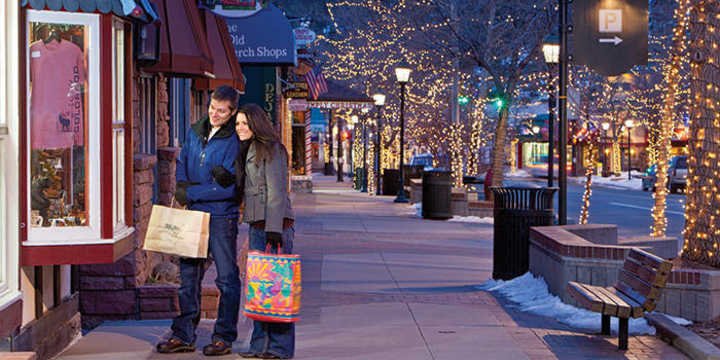 New Years
December 31st, 2015
Ring in the New Year in Estes Park!  Downtown twinkling lights, shopping in unique shops & boutiques, outdoor adventure around every turn in Rocky Mountain National Park and plenty of great events to count down to the New Year! 
New Year's Eve Special Dining Menus and Events: 
New Year's Family Glow Stick Party
Wednesday, Dec. 30th
$6 Adult, $5 Child or $20 Family of 4
4-7pm
Estes Park Aquatic Center
Celebrate New Year's Eve with the family at the New Year's Glow Stick Party! Admission includes entrance to the celebration and two glow sticks for each member of the family. The festive party moods set with dimmed lights to let the glow sticks shine, the pool will be lit up with in-water lights and fun music filling the air. For more info call 970-586-2340.
 
3-Course Colorado Tasting Menu at The Estes Park Resort
Thursday, Dec. 31st
Join new executive chef Tim Richardson and ring the New Year with a delicious 3-course tasting menu. Tastings are $50 and person, standard menu is also available, reservations are recommended. For reservations call 970-577-6400.   

Special New Year's Eve Menu at Twin Owls Steakhouse
Thursday, Dec. 31st
Enjoy a special New Year's Eve meal before setting out for an evening of celebration on the town. For a special price of $90 per couple, savor buffalo wellington 14 ounce filet mignon topped with duck live pate and duxelle mushrooms. Wrapped in a delicate puff pastry and baked to perfection- medium rare to medium. Served with green chile and white cheddar mashed potatoes. Call 970-586-9344 for reservations. 
New  Year's Eve Wine Dinner at Claire's on the Park
Thursday, Dec. 31st
Celebrate the start of the new year with "An Intimate Evening in Italy" dinner menu. Including a four course meal paired with wines, hosted by Executive Chef, Bill Brink and Wine Sommelier Apryl Boyce. Limited availability, reservation only, 970-586-9564.
New Year's Eve Parties & Celebrations: 
Lonigans Saloon Nightclub & Grill
New Years Eve Party
Thursday, December 31st, 9pm
Count down to midnight in the heart of Downtown Estes Park, featuring dance music by the popular DJ! Enjoy no cover entrance and a free champagne toast at midnight. 
The Stanley Hotel:
New Year's Eve Crystal Ball  
Thursday, December 31st, 9pm - 1am
$99 per person plus tax and gratuity 
21 and over, Reservations Required at 970-577-4111
The famous Stanley Hotel celebrates the start of 2016 at the Crystal Ball. Tickets include live music by the Jonny Mogambo Band, two drink tickets, hors d'oeuvres, midnight champagne toast, souvenir Crystal Ball champagne flute. Tickets sell quickly - reserve yours today! 
The Rock Inn Mountain Tavern:
New Year's Eve Bluegrass Ball 
Thursday, December 31st, 9pm 
Dance in the New Year with live music from the popular bluegrass band, ReIntarnation. Enjoy fresh Colorado brews, homemade food and great company! No reservations required. 
The American Legion:
New Year's Eve  Party 
Thursday, Dec. 31, 6pm 
A rockin' New Year's Eve party featuring the Osborn Brothers and The Mountain Town Rockers fun, local bands sure to get you on your feet dancing! Reservations Required, 970-586-6118. $75.00 per couple includes hors d'oeuvres, prime rib dinner, dessert and champagne & favors at midnight. 
Longz Mountain Grill at Rocky Mountain Park Inn 
New Year's Eve Bash 
Thursday, Dec. 31
Come join us at Longz Mountain Grill for a fun New Year's Eve bash with a live DJ! Enjoy all you can eat hors d'oeuvres. $10 per person. No reservations required. 
The Estes Park Resort 
New Year's Eve Celebration with Ran Off the Rooster
Thursday, Dec. 31, 8pm 
Celebrate the New Year with the popular band, Ran Off The Rooster, at Waterfront Grille & Lounge at Estes Park Resort. Music and dancing 8pm-12:30am, food & drink specials, and FREE champagne toast at midnight. No reservations required. 
New Year's Day Buffets & Brunches
The Other Side Restaurant
New Year's Day Buffet Brunch
 Friday, Jan. 1
Reservations Recommended,  970-586-2171, call for reservation times & prices. 
 
On New Year's Day, enjoy shopping in downtown Estes Park, where you can find one-of-a-kind gifts and home decor or the fun things to do in the village. Take a break from shopping to grab a bite to eat!  Head out for adventure by renting snowshoes or backcountry skis for a day of snow play in Rocky Mountain National Park. Make it a long weekend; find your perfect New Year's lodging in one of Estes Park's cabins or lodges here.