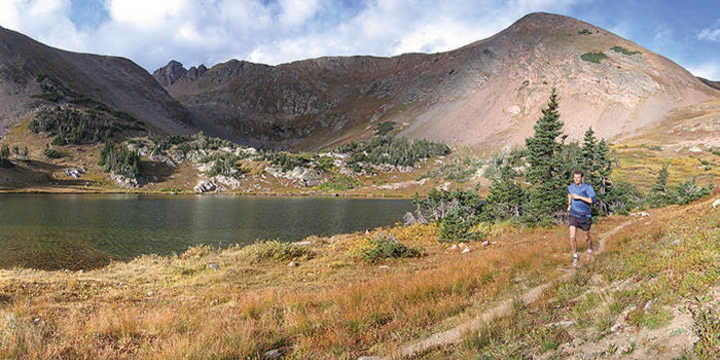 Estes Park Races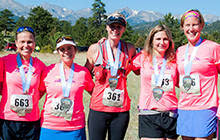 Estes Park is a training, running and racing paradise. With thin air and high elevation, the challenge for runners intensifies, as does the thrill. The breathtaking mountain views and alpine inspiration keep spirits high, even during the longest of races. Whether you are looking to run the trails or are going for endurance, the Estes Park Summer Race Series will challenge you, leaving you in awe of both yourself and your surroundings.
September 24, 2016: Running of the Bulls
A special, family-friendly run/walk around the 3.75-mile Lake Estes Trail, the Running of the Bulls both celebrates the magnificent elk rut (mating rituals) and raises funds Partners Mentoring youth, a local non-profit organization. Bring the dogs, the kids and an entourage to enjoy the beautiful scenery and refreshing autumn mountain air. More details can be found at PartnersMentoringYouth.org.
September 25, 2016: Loveland Marathon, Estes Park to Loveland
This scenic marathon takes runners from the starting line at the Estes Park Visitor Center, down the descending curves of the Big Thompson Canyon (Hwy 34) past overlooks of the rushing river and bighorn sheep perched on steep cliffs above before finishing in Loveland, CO. Visit LovelandMarathon.com for more information on this top Boston & New York Marathon qualifying race.
September 28, 2016: Estes Park Trail Ascent Trail Running Conference & Race 
The third annual Conference continues in the trail running mecca of Estes Park, CO. The first day of the Conference is for Trail Race Directors, with days 2 & 3 focused on Trail Runners, with interactive workshops, demonstrations, opportunities to try trail products, and educational speaker panels. The weekend finishes with a trail race on Sunday and is open to the public.
October 1, 2016: Rut Run 5K
A kick-off to Elk Fest weekend, the Rut Run is a fun family 5K offers a short and scenic tour of fall colors, grand views and possible elk sightings along the way! The Rut Run 5K is open to runners, walkers, strollers and leashed dogs. Learn more and register at EPMarathon.org. 
The conference is organized and presented by Active at Altitude, provider of running camps and active vacations, training, wellness and spiritual connection at 8,200 feet in the stunning Rocky Mountains. Visit EstesTrailAscent.com for more information or to register for this thrilling and inspiring conference!
October 2, 2016: Estes Trail Ascent Trail Race
The Trail Race is organized and presented by Estes Park Running Club, who also present the Estes Park Marathon, as well as other races in the Estes Park area. The ridge-line run begins at 8,500 feet in elevation on top of Pole hill Road just east of Estes Park, and summits at 9,085 feet during the 5.8-mile race. The race is limited to the first 100 registrations. Day-of registration available only if space allows. Pre-register online for a guaranteed spot - Registration for 2015 coming soon. Find more details at EPMarathon.org.
December 10, 2016: Dasher 5K
Warm up the holiday season with Estes Park's Dasher 5K! Dress to impress with your best holiday outfits for this fun run starting and finishing from the heart of Downtown Estes Park, Bond Park. Before the 5K the little elves can run the kids fun run, safely in a 400m dash. Register starts August 1st. 
January 29, 2017: Frost Giant 5K & 10K
Lace up your running shoes and grab a warm hat to partake in this fun and adventurous 5K and 10K race. Run past the historic MacGregor Ranch and take in views of the snow covered Continental Divide. Registration information can be found through the Estes Valley Recreation & Park District. 
June 2017: Elkhorn Dash Fun Run
A one mile, quick dash down the main street of Estes Park, Elkhorn Ave! Perfect for those looking to clock-in their personal best for a mile or families with wee-ones in strollers who want to take it a bit slower. Starting promptly at 7:45am near the Elkhorn Lodge on West Elkhorn Ave, have fun during this quick and scenic dash! For more information about the race go to EPMarathon.org
June 2017: Estes Park Marathon & Half, 10K, 5K and Kids Fun Run Festival 
Bring the entire family to Estes Park for a weekend of running in the mountains.Open meadows. Forested and stream-lined residential roads. Looming, spectacular peaks stretching toward the sky. All are integral to the Estes Park Marathon course that is known for having the highest paved route in the nation. Bond Park in downtown Estes Park is the perfect spot for kid's activities and races
Kids Fun Run Festival 
June 18th, Saturday
Bond Park, downtown Estes Park
9:30AM - 3:00PM
Bike event: 10:00AM
Run races: 2:00PM
$10. fee for race. Live music, games, treasure hunt, hula hoop, bouncing castle.
For more information Click here.
Estes Park Marathon & Half Marathon (with 5K & 10K races) 
June 19th, Sunday
6:00AM  Marathon start, in front of EP Middle School
7:00AM  Half Marathon start, in front of EP Middle School
7:30AM  10K start, west of EP Middle School
8:30AM  5K start, Lake Estes Marina (take the Trolley from EP High School to start line)
All races finish at the Estes Park High School Track & Field.
July 2017: Rocky Mountain Half Marathon
The Rocky Mountain Half Marathon celebrates the beauty of Rocky Mountain National Park. Challenge yourself with this high-altitude race through the spectacular Rocky Mountains and Estes Park. Beginning at the host hotel - the historic Stanley Hotel - at 6 a.m., the race will tour parts of town and stretch along the edge of the national park. You can find additional details and registration at TheRockyMountainHalf.com.
For more information click here.
Estes spotlighT
estes SpotlighT